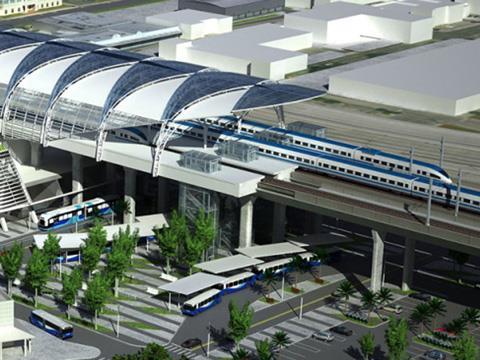 USA: Florida's recently-elected Republican Governor Rick Scott announced on February 16 that he had decided to reject any federal funding for the proposed 135 km high speed line between Tampa and Orlando, as the start of a state-wide high speed network.
This effectively stops the project, which had been widely seen as a flagship for introducing high speed rail in the USA. Scott said it could be 'far too costly to taxpayers', and 'the risk far outweighs the benefits'.
His decision was based on 'three main economic realities', he explained. Although the federal government had promised almost US$2·4bn to meet the bulk of the construction cost for the line along the Interstate-4 corridor, Scott said any cost over-runs 'could put Florida taxpayers on the hook for an additional $3bn'.
He also cast doubts on the ridership and revenue projections, which he said had been 'overly-optimistic' in two-thirds of high speed rail projects. An estimated 3·1 million passengers a year were projected to use the Orlando – Tampa line, but he said only 3·2 million currently used Amtrak's Acela Express services in the Northeast Corridor, where the market was 'eight times the size.' Critics pointed out that this excluded the 7·6 million carried on other Amtrak trains, let alone the commuter rail services.
Nevertheless, Scott suggested that any ridership shortfall could result in the state being liable for up to $575m in operating subsidies over 10 years. And if the project were then shut down, the state would still have to refund the federal money, he claimed.
Claiming that 'President Obama's high speed rail programme is not the answer to Florida's economic recovery', Scott insisted that 'we must make investments in areas where we will get a return for Florida's taxpayers.' The federal government is expected to reallocate the funding to other high speed rail projects, notably in California, where local proponents are already lobbying for the Fresno - Bakersfield pilot section to be extended north to San Jose. Illinois has also expressed interest in receiving further federal funds.

Responding to the announcement, the US High Speed Rail Association pointed out that 'the voters in Florida have repeatedly expressed strong interest in bringing high speed rail and enhanced commuter rail to the state', and that 90% of the funding for the project had been put in place. USHSR President Andy Kunz described the Governor's decision as 'premature', noting that a ridership study he had commissioned had not yet been released. Issuing a Request for Proposals for a build and operate concession would have given the private sector 'the opportunity to cover any construction funding gaps', he suggested.