NETHERLANDS: Following a critical review highlighting cost over-runs and a lack of clear project leadership, the government has outlined its intention to accelerate the introduction of the country's much-delayed national public transport smart card, reports Peter Badcock.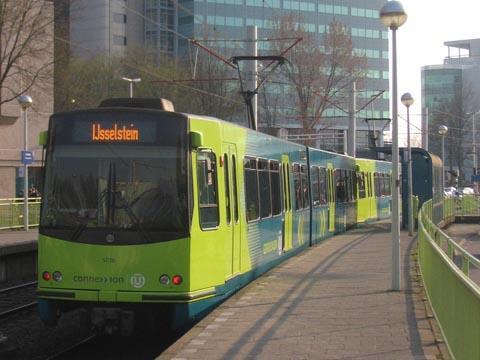 Although 75% of public transport journeys in Rotterdam are now being made using the OV-Chipkaart, the roll-out of the new national smart card is continuing at a snail's pace.
In an effort to speed the implementation process, State Secretary of Transport Tineke Huizinga-Heringa issued a statement on December 3 confirming that nationwide introduction of OV-Chipkaart would be completed within a year of the first region withdrawing the strippenkaart.
A Customer Acceptance panel is to be set up following the roll-out to monitor passengers' response to the launch, whilst the Mayor of Purmerend Leen Verbeek has been appointed to chair a co-ordinated íntroduction group with representatives from all the local transport operators and NS. Although initially asked by the minister to meet weekly, the group has promised to gather on a 'frequent' basis.
Soaring cost
Trials have been underway in Rotterdam since 2005 and in Amsterdam since 2006, but despite the success of multi-modal transport smart cards in cities such as Hong Kong, Singapore and London, the Dutch system has been dogged by problems. Many passengers in the Netherlands outside the Rotterdam region remain sceptical of the whole concept.
Co-ordinator for the development and introduction of OV-Chipkaart is Trans Link Systems, a joint venture company established in 2003 which brought together five of the country's major transport operators: Netherlands Railways, Rotterdam's RET, Amsterdam's GVB, Den Haag's HTM and national bus and tram operator Connexxion. When the project was launched, the original intention was that the smart card would completely replace the paper strippenkaart tickets by 2008.
An initial development contract worth more than €120m was signed in July 2003 with the East-West consortium of Thales, Accenture and Vialis, with the government expecting to allocate a further €80m to roll the card out across the Netherlands. Five years on, progress has been glacially slow, whilst the cost of the project has soared to more than €1bn.
Although the consortium remains responsible for development of the smart card, chip production has been contracted out to NXP, and the cards are produced by a firm in Amersfoort. Any company may tender for providing the gates and readers providing they meet the TLS specifications. Meanwhile, each operator has developed its own approach to marketing the smart card, handling the data and setting the conditions for use of season tickets. The regional governments decide the distance-based tariff for basic journeys, but even here there seem to be differences in the way that the fares are calculated and charged.
OV-Chipkaart is currently available for use on RET's metro, trams and buses in Rotterdam, together with some regional bus services operated by Connexxion. In Amsterdam it has been tested on the metro, and since November the card has also been accepted on GVB's trams and buses.
However, the early days were beset with frequent problems, such as incorrect fares being charged and gate clocks not being synchronised, which made a nonsense of the rule that said interchanges between modes within 35 min should be free of a second step-in charge. NS curtailed its trials on the Rotterdam CS - Hoek van Holland route in August, and now expects to start a new trial on the Weesp - Lelystad line in early 2009, before starting network-wide roll-out of the smart card from October 2009.
Commission reports
With the project running behind schedule and over budget, the government appointed a commission in May 2008 to try to assess the likely extent of the cost over-run. Headed by a former President of the Financial Markets Authority, Anne Kist, the commission submitted its report to Huizinga-Heringa on October 6. The report was then forwarded to Parliament for consideration before the minister made her statement on the roll-out strategy on December 3.
The original budget for introduction of OV-Chipkaart was put at €249m, but the programme incurred an over-run of €100m in 2006-08. According to the Kist commission, 75% of the extra costs were incurred during the partial introduction on RET, GVB and Connexxion. In addition, NS has been allocated €726m towards the cost of introducing the card across the rail network, bringing the total to almost €1·1bn.
One reason why the development and implementation costs have gone so far over budget is that the complexity of the project seems to have been significantly under-estimated. Worse, the delays in implementation have also meant that fewer benefits than planned have been delivered in terms of reducing fraudulent travel. The current estimate is that an extra €18m a year will be required to support the project until 2017, whereas the original plan for the period 2009-17 envisaged annual running costs of €33m outweighed by benefits totalling €55m a year.
One result of the problems has been the decision by Connexxion to pull out of the project team. Although the company says it still supports the introduction of OV-chipkaart, it disposed of its stake in TLS during September, explaining that it was not prepared to invest any more. RET, GVB and NS have taken over the Connexxion stake, but are expected to seek reimbursement from the Transport Ministry for the missing partner's share of the costs.
Meanwhile, the Kist commission has recommended a number of organisational improvements to the programme, noting that 'there are too many thinkers and talkers but a conspicuous absence of one leader'. As well as TLS, 19 regional governments, numerous operators and eight consumer representative bodies have been involved in the discussions over the years.
Public support waning
Consumer and passenger organisations have also started to withdraw their active support for the OV-Chipkaart in recent months. The Netherlands Consumers' Association, public transport users' association Rover, the ANWB representing road users, student organisation LSVb and the disabled organisation CG-Raad all feel that the card still presents more disadvantages than benefits to the average user.
Amongst the objections they have identified are the multitude of local tariff structures, resulting in a lack of transparent fares for passengers; different local rules for interchange between modes; significant price increases on some more circuitous routes (instead of simple A to B distances); the discontinuation of return fares and non-compliance with laws relating to security of personal data.
Furthermore, the consumer groups consider that a non-refundable charge of €7·50 for a smart card with only a five-year lifespan is unreasonable, and it is likely to discourage casual users making occasional trips. If a card is lost or stolen, only those smart cards registered to a specific user can be hot-listed and blocked. These passengers are then expected to pay €10 for a replacement card and wait up to four weeks for delivery.
Privacy watchdog CBP has also raised concerns over the way that OV-Chipkaart handles personal data, although surveys suggest that the vociferous minority worried about computer registration of personal data only accounts for around 8% of Dutch residents. Whilst consumers seem unconcerned about making personal details available for supermarket loyalty cards, there is a growing concern that OV-Chipkaart is more sensitive as it can record people's movements.
A bigger concern emerged towards the end of 2007, when both a German team and a group from Radboud University in Nijmegen succeeded in hacking the Mifare Classic chip used in the OV-Chipkaart and London's Oyster smart card. Manufacturer NXP tried unsuccessfully to get an injunction preventing the researchers from publicising their somewhat laborious techniques until 2011, when a more secure chip is to be introduced.
Dutch research institute TNO and a team from Royal Holloway University of London examined the hacking incidents and both concluded that the Mifare Classic chip would have to be replaced. RHUL recommended that future cards should be physically protected by an anti-fraud measure such as a hologram or laser-engraving. This should also apply to the throw-away day-ticket, which has a more limited availability and uses the simpler Mifare Ultralite chip. RHUL accepted TNO's conclusions that personal data was not at risk as the chip currently only bears the holder's date of birth and details of recent journeys.
Calculating the fare
In 2006 the then Transport Minister Carla Peijs turned down a request from the public transport operators for a higher-than-inflation rise in tariffs, and Parliament laid down a requirement that the introduction of OV-Chipkaart should not result in an increase in the average fare paid by the passenger. But within this overall guideline there is still a considerable degree of confusion between operators.
For bus and tram services, the whole country is presently divided into strippenkaart zones with an average diameter of 4·25 km. Fares are determined by a one-zone step-in charge plus the number of zones passed through. However, OV-Chipkaart is intended to allow operators to move away from this relatively blunt zonal structure towards fares that are related to the distance travelled. In theory, this should make short journeys across zone boundaries cheaper, whereas longer and more circuitous routes could become more expensive.
However, both step-in charges and per-km rates are determined by the local operators and regional authorities, and can differ widely. RET has introduced a step-in charge of €0·70, compared with €0·45 for the strippenkaart, plus €0·11 per km thereafter. Den Haag region is charging €0·13 per km for its section of RandstadRail, whereas Amsterdam's GVB has chosen a step-in tariff of €0·70 plus €0·10 per km for its metro services.
Another complication which will affect the roll-out beyond the urban areas is that NS uses a different per-km tariff rate from the regional bus operators who currently follow the strippenkaart zonal standards.
Moreover, there is no cross-acceptance, at least at this stage, between the NS OV-Chipkaart tickets and those issued by other operators. NS is against the use of a throw-away smart card for single journeys, and is still trying to solve the problem of how to persuade foreign tourists and occasional users to adopt the smart card. One idea to encourage users is to make the use of OV-Chipkaart cheaper than paper tickets to stimulate a rapid changeover.
However, NS is adamant that it will only issue single fares using OV-Chipkaart. With the present paper tickets, return fares are around 15% cheaper than two singles, so in mid-2008 NS announced how it intended to eliminate this discrepancy over the period 2009-11. In each of the three years, smart-card singles will fall by 3% compared to the paper equivalents, whilst paper return tickets will increase by an extra 2% a year. Thus from 2011 return fares will be twice the single fares, and paper tickets will cost the same as those bought using OV-Chipkaart.
All the parties have consistently ignored any form of 'daily capping' whereby the maximum charge would be no greater than the locally-applicable 'day rover' ticket. Huizinga-Heringa confirmed in October that there was no intention to introduce capping at this stage.
Moving ahead
As plans for the revised roll-out strategy take shape, the Kist commission has recommended that the current temporary dual-system in the Rotterdam area should be discontinued, with withdrawal of strippenkaart tickets in the local area. This would allow all entry and exit gates to be shut, significantly reducing fraudulent travel. At present RET estimates that it is losing €200 000 a month through fare evasion, but points out that there are not enough roving inspectors with the necessary hand-held readers to check smart cards being used in the metro.
As well as cutting fare evasion, there are other benefits to be gained. A recent report from PriceWaterhouseCoopers found that 50% of people causing a nuisance on public transport and 60% to 70% of those responsible for assaults on staff were travelling without a valid ticket. Moving to a fully-gated network should reduce these problems, particularly on suburban rail and metro services.
Closed ticket areas are still uncommon in the Netherlands, and concern had been expressed by the fire brigade about the risk of impeding station exits in an emergency. Huizinga-Heringa confirmed in October that both the entrance and exit gates must be designed to open with a firm push for emergencies.
Once the metro gates in Amsterdam have been closed and shown to function reliably, the city government is planning a campaign to encourage the rapid take-up of smart cards. One promotion will be to offer senior citizens 90 days of free travel provided they sign up for a personalised OV-Chipkaart.