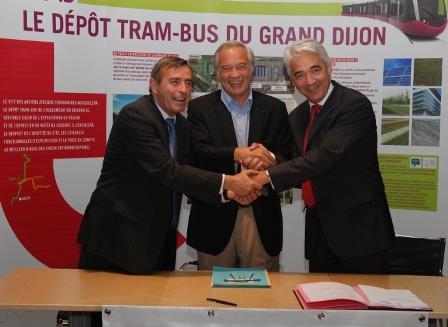 FRANCE: On July 1 the Grand Dijon urban authority and Inéo, a subsidiary of GDF Suez, signed a 26-year PPP agreement worth €176m to design, supply, maintain and finance the electrical and control equipment for the city's tram network.

Under the first deal of its kind in France, Inéo and PPP development fund FIDEPPP will invest €52m. As part of the environmental initiative included in the concession, Inéo will install more than 6 200 photovoltaic cells on the roof of the depot, capable of supplying 1·3 GWh a year.

Dijon is building a 20 km two-line tram network with 37 stops at a cost of €400m. Line A will be 11·5 km long, serving 21 stops between Valmy and Chenôve while the 8·5 km Line B will run from the railway station to Quetigny, with 16 stops.
Dijon has already ordered 32 Alstom Citadis vehicles to carry a projected 90 000 passengers/day when the lines open in early 2013. The project is being financed by national and regional government grants totalling €112m, €188m from the EIB and €100m in borrowing from Caisse des Dépôts.