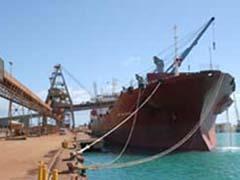 AUSTRALIA: The Western Australia government confirmed on July 29 that it had selected the Oakajee Port & Rail joint venture of Murchison Metals and Mitsubishi for the concession to develop an A$3bn port and rail network serving eight iron ore reserves in the mid-West region east of Geraldton. The partnership was preferred to the Yilgarn Infrastructure grouping of Midwest Corp and Chinese partners
The new common-user port at Oakajee, 200 km north of Perth, is expected to have an initial capacity of around 35 million tonnes per year, with the first shipments expected in 2012.
OPR has assembled an international team to support the project, including engineering and construction company Thiess, P&O Automotive & General Stevedoring, which would run the port, and Australian Railroad Group. Financing will come from a consortium of international banks, including ANZ, Commonwealth Bank of Australia, NAB, Mizuho, Sumitomo Mitsui Banking Corp, Bank of Tokyo-Mitsubishi UFJ Ltd, HSBC, Royal Bank of Scotland and Westpac.
On August 6 Chief Executive Christopher Eves said OPR was finalising project parameters with the state government in order to negotiate with landowners, complete detailed construction and operational design, secure environmental approval and confirm the financial arrangements.
Waratah Coal has appointed WorsleyParsons as project manager for its A$5·3bn mine, rail and port project in Queensland's the Galilee Basin. The company announced plans in July to develop a mine at Alpha, west of Emerald, which could produce up to 25 million tonnes of coal per year. It would be linked to a purpose-built port at Shoalwater Bay on the central Queensland coast by a 495 km heavy haul railway.