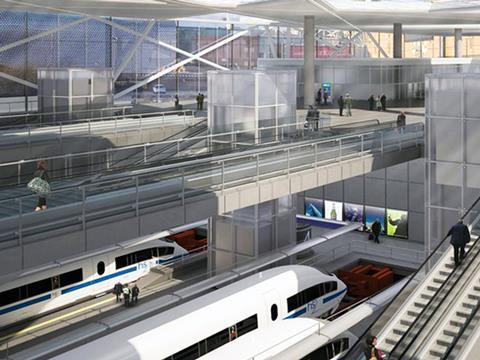 UK: The process to procure rolling stock for High Speed 2 was initiated on January 20, when the Department for Transport issued a periodic indicative notice regarding the acquisition of up to 60 trainsets. The formal call for tenders is planned for 2018, with the contract worth an estimated £2·75bn to be awarded at the end of 2019.

The initial tranche of trains would operate over the new infrastructure being developed in the 225 km first phase of HS2, which is to link London and the West Midlands from 2026. All 60 will be 'classic compatible', capable of operating on the conventional network to serve destinations in northwest England and Scotland. The trainsets are required to be capable of operating at up to 360 km/h on the new line, and should meet 'the highest standards internationally for passenger experience, noise reduction, and environmental sustainability', according to DfT. Bidders would maintain the fleet at a dedicated depot to be built alongside the HS2 alignment at Washwood Heath near Birmingham.

'We are looking for a supplier who is capable of delivering and maintaining some of the world's most advanced rolling stock, with designs putting the passenger at their heart to ensure seamless, accessible, fast and reliable journeys', said Chris Rayner, Managing Director for Railway Systems at HS2 Ltd.

Trainsets for Phase 2b of HS2 which would see the route extended to Manchester and Leeds in 2033 are to be acquired under a future procurement programme.
DfT released a prospectus on January 19 giving more information to potential bidders for the West Coast Partnership franchise. This will see a single operator run inter-city trains on the existing West Coast Main Line from 2019 and on HS2 for approximately three years after opening in 2026. The winning bidder's priories will include working with HS2 Ltd in the mobilisation phase and remapping passenger services on the WCML to make use of capacity released by HS2.