TURKEY: Five years after the start of construction in Istanbul, work on the long-planned Marmaray link between Europe and Asia is well underway. The project is due for completion in 2011, with trains expected to start running the following year.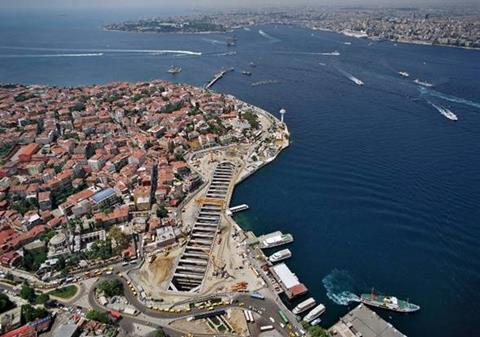 Almost 150 years after the first proposals were unveiled for construction of a rail link under the Bosporus to connect Europe and Asia, construction work on the Marmaray project is forging ahead. February was due to see the breakthrough of the first bored approach tunnels leading to the immersed-tube below the Istanbul Strait which was completed in October.
Proposals for a rail link under the Bosporus were first mooted as early as 1860, and even then the idea of an immersed tube was favoured. The concept was revived in 1902, but no further progress was made until a feasibility study was commissioned in 1985. Revised in 1997, this work formed the basis of the current project.
Promoted and managed by the General Directorate of Railways, Harbours & Airports at the Ministry of Transport (DLH), the US$3·5bn Marmaray project is being financed by loans from Japan Bank for International Co-operation, the European Investment Bank and the Council of Europe Development Bank. DLH has appointed as project engineer and representative Avrasyaconsult, a joint venture led by Pacific Consultants International of Japan with Yuksel Proje, Jarts and Oriental Consultants. In turn, Avrasyaconsult is being advised by Parsons Brinckerhoff International.
As well as the 13·6 km tunnel link, the project involves upgrading the existing railways on both shores to create a high-capacity 76·3 km cross-city route between Halkali on the European side and Gebze in Anatolia, which will be used by suburban, inter-city and freight trains. Three underground stations are being built, plus 37 new or rebuilt surface stations. Around 250 km of track will be laid or renewed, along with 25 kV electrification equipment. Two new depots are envisaged to maintain the EMU fleet.
The project has been divided into three main contracts, of which the tunnels under Istanbul and the strait and all related E&M systems are included in contract BC1. CR1 covers the infrastructure and track works on the 66 km surface alignments, all railway systems, electrification and signalling, and CR2 covers the new rolling stock.
Contract BC1 was awarded in July 2004 to a Japanese-Turkish joint venture of Taisei, Kumagai, Gama and Nurol, at a cost of ¥102·3bn Work began in August of that year, and was originally expected to take 56 months to complete. Contract CR1 was awarded to Alstom, Marubeni and Dogus, the AMD Rail Consortium, in March 2007. Enabling works began in July 2007, in parallel with detailed design. The CR2 rolling stock contract was placed with Hyundai Rotem in November 2008.
The link diverges from TCDD's European main line at Yedikule and parallels the existing alignment as far as Yenikapi where a new interchange hub is taking shape. It then runs diagonally beneath the old city to a deep-level station under the current terminus at Sirkeci. After crossing the Istanbul Strait it will serve new stations at Üsküdar and Ayrlikçesme where it joins the Anatolian network north of Sögütlüçesme. Both the existing termini at Sirkeci and Haydarpasa will close, although the historic structures will remain.
Complex tunnelling
Construction of the link has proved challenging from both the geological and archaeological perspectives. The Bosporus lies in a seismically active area, with the North Anatolian Fault just 16 km to the south in the Sea of Marmara. According to DLH, there is a 65% probability of an earthquake measuring 7·5 on the Richter Scale occurring within the next 30 years. There are also two-layered 6 knot currents in the Istanbul Strait, which is one of the busiest shipping channels in the world.
Geological investigations were undertaken in 1985-87 and again in 2002-04 to confirm the final alignment. This established the risk of liquefaction in a 460 m section, requiring ground consolidation works and grouting to provide a secure foundation for the tunnel.
The heart of the link is the 1 387 m immersed tube tunnel beneath the strait, which lies in a trench at a depth of 60 m, making it the deepest immersed tunnel in the world. The tube has been assembled from 11 concrete segments, of which eight are 135 m long, one 110 m and two of 98·5 m, weighing up to 19 000 tonnes.
The segments were assembled in a pair of purpose-built dry docks at Tuzla on the Anatolian shore. After completion, the partially-immersed segments were towed the 40 km to the construction site by a launching barge and lowered into position in a dredged trench. The trench was then backfilled, and a rock layer added wherever there was less than 4 m of cover above the tunnel. Seismic protection joints have been provided between the segments and the bored approach tunnels. Flood gates will also be fitted in case of a tunnel breach, fully interlocked with the signalling.
The last segment was put in place on September 23, and Prime Minister Recep Tayyip Erdogan participated in ceremonies on October 13 to mark completion of the tube. After he removed the last seal from the final segment, Erdogan and other VIPs were able to walk through the tunnel linking Europe and Asia.
The twin-bore approach tunnels on both sides are being excavated using five tunnel boring machines. Two closed-faced slurry TBMs are being used for the pair of 4 210 m bores between Ayrlikçesme and Üsküdar, and a similar pair for the 3 072 m bores from Yenikapi to Sarayburnu. The 2 480 m twin bores between Yedikule and Yenikapi are being bored with a single earth pressure balance TBM.
The 1 500 m long station cavern at Sirkeci and the 350 m crossover cavern at Üsküdar are being excavated using NATM, as are the cross passages between the running tunnels. The underground stations at Yenikapi and Üsküdar are being built using cut-and-cover. The interchange station at Ayrlikçesme is being built by Istanbul Metropolitan Municipality as part of the Kadiköy – Kartal metro project.
Given Istanbul's long history as capital of the Byzantine and Ottoman empires, there have been a number of significant archaeological finds, including a substantial section of the ancient port and a Byzantine longboat which delayed work at Yenikapi for some time. The project team has been working closely with the Istanbul Archaeological Museum Directorate to record and save many of the artefacts, which will be displayed in a new museum at Yenikapi.
By mid-2008 around 90% of detailed design had been completed, along with 85% of the archaeological work. The TBMs had completed more than 5 km of tunnelling, and the excavation of the stations and crossover caverns was well advanced. Preparatory works had also begun for the new traction substations. With civil engineering and fitting out to be completed in 2011, the link is now expected to open for revenue service in 2012-13.
Mixed-traffic railway
As well as providing a fixed rail link between Europe and Asia, the Marmaray project is seen as an important contribution towards reducing Istanbul's legendary traffic congestion. The line will have a capacity of 75 000 passengers/h in each direction, and is expected to benefit more than 1 million passengers/day. DLH forecasts that Marmaray will increase rail's market share from 3% to around 27%, which would put Istanbul on a par with Paris and London.
Although the link itself will only have two tracks, the railways on each side are being expanded from two to three tracks. This will provide a dedicated double-track alignment for the suburban services, plus a separate reversible track for long-distance passenger and freight trains. Passing loops will be provided at approximately 4·5 km intervals, with 10 loops on the Asian side and two on the European.
All stations will be built or rebuilt with an island platform except for Sirkeci, which will have side platforms. Out of the 40 stations, only eight will be served by long-distance trains, as well as the outer termini at Halkali and Gebze. Interchanges with Istanbul's expanding metro and light rail networks is envisaged at at Kadiköy, Ibrahimaga, Üsküdar, Sirkeci and Yenikapi. Reversing facilities are being provided at Atakoy and Pendik to support the operation of a higher frequency service on the central section.
Operationally, the hub of the Marmaray network will be at Yenikapi, where a new inter-city station will replace TCDD's two existing termini. This will also provide interchange with light metro Line M1 from the airport, which is being extended 700 m from Aksaray, and heavy metro line M2 which is being lengthened southwards from Taksim across the Golden Horn (RG 12.08 p929).
Design capacity for the suburban operation is put at 75 000 passengers/h in each direction at peak times, with a target 15 min peak of 90 000 passengers/h by 2025. This will require average loadings of 3 500 passengers per train. To achieve this throughput, the tunnel section between Ayrlikçesme and Kazliçesme will be reserved for commuter trains during both the morning and evening peak hours (06.00 – 09.00 and 16.00 – 19.00). Inter-city services will be able to use the link during the day, but freight trains are expected to run only between midnight and 05.00. Target journey time for commuter trains to cover the 76·3 km from Halkali to Gebze is 105 min, with the Bosporus crossing taking just 4 min.
Rolling stock and signalling
The fleet of 10-car and five-car EMUs to operate Marmaray services was ordered from Hyundai Rotem in November at a cost of €580m (RG 12.08 p926). There will be 440 cars in total, with 22 m long stainless steel bodyshells. Some production will be carried out locally by Eurotem, Hyundai Rotem's joint venture with Turkish rolling stock manufacturer Tüvasas at Adapazari. The trains are due to be delivered in three batches, with the first 160 cars completed in 2011 and the last by June 2014.
The main depot for the commuter fleet will be located at Maltepe on the Anatolian side, with stabling facilities at Pendik and Yenimahale. A second depot at Halkali will accommodate both commuter and inter-city trains, with a third at Gebze for IC stock only.
Within the AMD consortium, Alstom is responsible for the bulk of the signalling and train control works. According to Parsons Brickerhoff's Senior Project Manager Daniel Horgan, Marmaray is being equipped with moving-block CBTC and ATO, together with ETCS Level 1 for ATP and as a fall-back mode. On the three-track sections, the long-distance track will have only ETCS Level 1. Technical headways will be 300 sec on Track 3 and at the outer ends of the corridor, and 90 sec on the central ATO section between Ataköy and Pendik. When operating in fall-back mode using Level 1, a 120 sec headway is specified. Station dwell times will range from 30 to 45 sec.
The tunnel will be equipped for bidirectional working on both tracks, but in normal operations right-hand running will be used. Separate control rooms for commuter and long-distance trains will be provided at the main operations control centre, which will be located alongside the depot at Maltepe. A central equipment room at Halkali will oversee the signalling on the European side, and a back-up panel here will allow this section to operate independently if the tunnel is disrupted. The OCC will be provided with earthquake alarms connected to the Kandilli Early Warning System.
Marmaray in numbers
Overall length, km
76·3
Tunnel section, km
13·6
Immersed tube, m
1387
Deepest point, m
60·46
Minimum curve radius, m
300
Maximum gradient, %
1·8
Surface stations
37
Underground stations
3
Interchanges
4
Inter-city stations
8
Platform length, m
225
Average station spacing, km
1·9
Suburban EMUs
44 x 10-car
Design speed, km/h
100
Minimum headway, sec
120
Passengers/h per direction
75 000