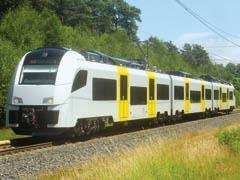 CHINA: Siemens Mobility is to supply traction and control technology from its Desiro regional multiple-unit platform to rolling stock manufacturer CSR Nanjing Puzhen under a €450m long-term co-operation agreement announced on January 21.
An initial suborder covers equipment for 32 six-car 25 kV inter-city electric multiple-units which Guangdong Southeast Intercity Transport Co ordered from CSR Puzhen in December. These will be used on the growing Pearl River Delta rail network around Guangzhou, where Siemens says 2 000 km of new track is to be built by 2020.
Siemens will supply components in 2011-12 for 22 six-car EMUs with a top speed of 140 km/h and 10 six-car units with a top speed of 200 km/h. The traction equipment will be based on that used in the Desiro ML family, of which 332 trainsets have been sold in Germany and Belgium. The bogies will be manufactured under licence in China. The value of the initial contract is not being disclosed.