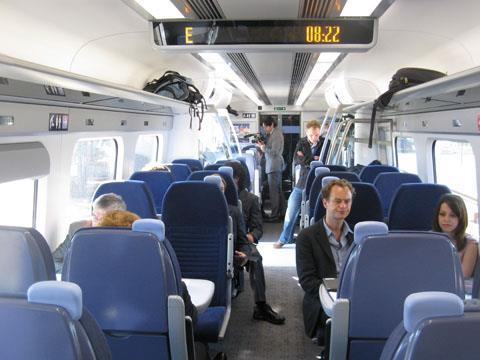 UK: Domestic passenger services will begin using High Speed 1 on June 29, when Southeastern launches a limited 'preview' service between Ashford and London ahead of the introduction of the full service with the December timetable change.
The train operator will then have three service groups: High Speed, running at 225 km/h on HS1; Metro, covering London suburban services; and Main Line, covering the rest of the network. Southeastern sees High Speed as a premium service, with higher fares than Main Line, but Keith Ludeman, Chairman of Southeastern franchisee Govia, believes the reduction in journey times will act to grow the commuting market.
Speaking on a special run for stakeholders on June 18, Ludeman said he expects usage to mirror the increase in long-distance commuting seen on the East Coast Main Line, where towns as far north as Grantham now see significant commuter traffic to London.
Ebbsfleet will become a 'very important station', according to Southeastern Managing Director Charles Horton, acting as a major regional park and ride centre.
The High Speed preview service will only use High Speed 1, running from Ashford to London St Pancras during the peaks and shuttling between London and Ebbsfleet off-peak. From December the Hitachi Class 395 trains will run onto the 750 V DC third rail network to serve other destinations in Kent. There will be a reduction in Main Line services as a result of the High Speed launch, with the train paths allocated to Metro services.
From December High Speed trains will stop at Stratford, which will be the focus of the Javelin-branded shuttle service which Southeastern will operate on behalf of the Olympic Delivery Authority during the 2012 Olympic Games.
Hitachi has now completed all 29 of the six-car Class 395 trains, and four of the 18 sets in the UK are currently approved for use by Southeastern, having accumulated 6 000 km of fault-free running. The final vehicles left Japan on June 13, and are now being shipped via Panama. Hitachi expects all 29 sets to be in service by November; the full service will require 26 sets to be in traffic, and Hitachi's target is to achieve at least 88 000 km per casualty.
Riding the special service, Secretary of State for Transport Lord Adonis said the start of domestic services was a 'seminal moment for the development of high speed rail in Britain'. While cautioning that the decision whether to go ahead with a high speed line from London to Birmingham and beyond would be dependent on the results of technical and commercial studies now underway, Adonis said Southeastern's services will act to promote high speed rail and 'considerably strengthen the case for a second high speed line.'