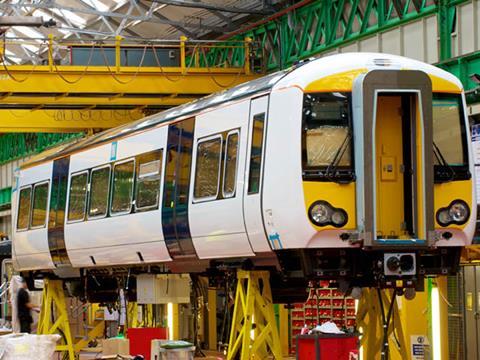 UK: On behalf of the Department for Transport, passenger operator Southern has selected Bombardier to supply 116 electric multiple-unit cars at cost of £180m. The order is intended to facilitate the cascade of EMUs between operators as part of the upgrade of the Thameslink route.
Southern called for proposals in late 2012, and issued invitations to tender at the beginning of February 2013. Final offers were submitted on June 18, and Bombardier was named as preferred bidder on July 17. The contract is to be signed following the statutory 10-day standstill period. A separate completion will be held to finance the vehicles, which will be an updated variant of Bombardier's Electrostar family.
The EMUs are scheduled to be delivered for use on Thameslink services from the May 2015 timetable change. This will release existing Thameslink units for deployment on routes elsewhere which are to be electrified. The Bombardier EMUs would subsequently be allocated to other routes once the Siemens Desiro City units on order for Thameslink services are delivered.
The contract will include an option for a further 140 vehicles which could be exercised 'in the event that further investment opportunities are identified'. This would take the total value to £385m.