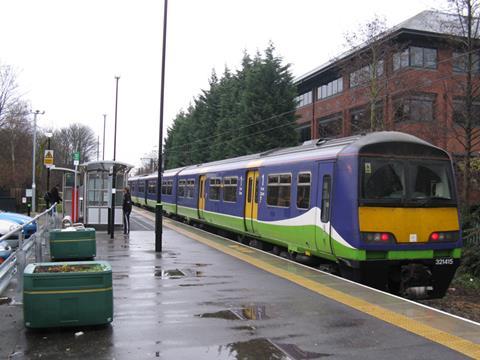 UK: Plans to convert the 10 km Watford Junction - St Albans Abbey branch line to light rail standards have been dropped, with Hertfordshire County Council saying that the proposal 'turned out to be considerably more complicated than originally expected and we have found it is not possible to deliver light rail within the available funding'.
The council is keen to see the train service increased from every 45 min to half-hourly, but this would require a new passing loop and resignalling. Conversion to light rail was proposed in 2009 in the hope that this would be cheaper than undertaking works to heavy rail standards. The council also hoped that it would enable the route to be extended at both ends.
It was envisaged that the conversion and acquisition of light rail vehicles would have been funded within the existing Network Rail and Department for Transport budgets for the route, which is currently operated as part of the London Midland passenger franchise. HCC would have leased the line and taken over the funding, with the capital expenditure expected to be recovered through lower operating costs.
However, studies established that additional capital funding would have been required, and it would be a complex task to separate funding for the Abbey Line from wider rail spending. In addition, the council's desire to retain integrated ticketing with the national rail network, including current fares for through journeys, would have added more complexity. While not insurmountable, this would have required additional work from DfT, which felt 'the costs and effort were not worth it' and stepped back from the scheme, a council spokesman told Railway Gazette International.
Terry Douris, HCC Cabinet Member for Highways & Waste Management, said 'we understand why the DfT has made this decision but it's disappointing that, in the short term at least, this valuable local service won't get the upgrade that we had hoped for'.
However, the council remains committed to introducing a more frequent service, and is hopeful that the next London Midland franchise will include provision for changes to the line. The council plans to investigate whether a case can be made for a light rail scheme combining conversion with route extensions into the towns at either end.