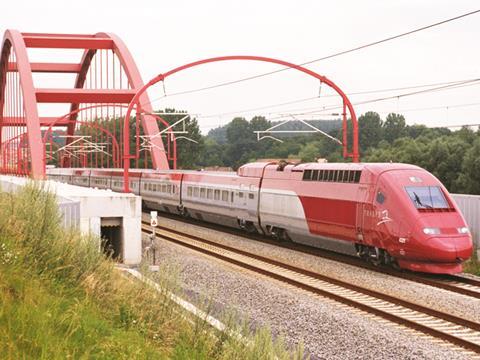 EUROPE: The boards of Belgian national operator SNCB and France's SNCF have approved a restructuring of international high speed operator Thalys by 2015 to create a single corporate entity.
Thalys operates high speed services between various destinations in France, Belgium, the Netherlands and Germany, although its prime route is the Paris – Brussels – Amsterdam/Köln corridor. Currently it is managed through a partnership between SNCF and SNCB, with German operator DB having disposed of its minority stake and NS effectively a sleeping partner. As with cross-Channel operator Eurostar International, SNCF would hold a majority share in the resulting company.
The restructuring would see a single management team responsible for 'guaranteeing the future development' of Thalys and delivering 'agility in a competitive environment'. Thalys already competes with DB's ICE International service between Brussels and Köln, but following the recent problems with NS Hispeed's Fyra operation, it is at present the sole provider of high speed services on the HSL-Zuid high speed line between Antwerpen and Amsterdam. An NS task force established in the wake of the Fyra crisis has proposed increasing the number of Thalys trains using the route.
'This decision represents a great opportunity to develop high speed rail services in northern Europe', said SNCF President Guillaume Pepy and SNCB Chief Executive Marc Descheemaecker in a joint statement. The restructuring is subject to approval by the European Commission.