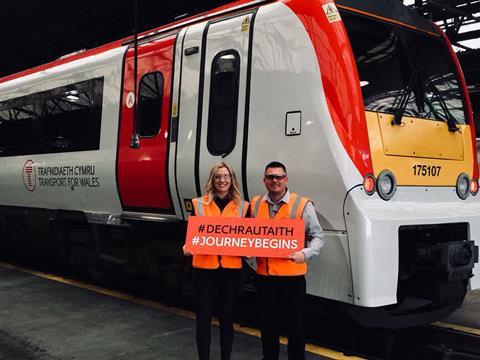 UK: The KeolisAmey joint venture took over from Arriva Trains Wales as the operator of Wales & Borders services with the start of the new franchise on October 14.
The 15-year Operations & Development Partner contract was awarded by the devolved Welsh Government's Transport for Wales agency, and is designed to be a cross between a traditional Department for Transport franchise and a more tightly-controlled concession.
'This is an important moment for rail in Wales – indeed for devolution itself', said Wales' First Minister Carwyn Jones. 'This will be the very first "made in Wales" rail service, designed and delivered by the Welsh Government. The opportunity to redesign and repurpose our railway network in Wales is a once in a generation opportunity and I am confident that by 2033 it can be the best passenger rail service in the UK.
'The chance to develop an integrated transport system that encourages economic growth and better supports our public services is supported across all political parties, and the opportunities to develop Metro systems in southeast Wales, in the northeast and around Swansea Bay are drawing attention from across the globe.'
Jones cautioned that 'our bold ambitions will take time to bring to fruition and won't be achieved overnight.'
David Sidebottom, director at Transport Focus, said passengers' priorities for the new franchise were 'reliable services on which they can get a seat and are good value for money'. He said Transport for Wales should 'clearly communicate' when improvements will be delivered and what disruption will occur.
Transport Secretary Ken Skates said investment totalling almost £5bn was committed over the next 15 years, including £800m for rolling stock so that 95% of journeys will be on new trains by 2023; the operator has selected CAF and Stadler to supply the new fleets. A further £194m is allocated for stations, and £738m earmarked to modernise infrastructure as part of the metro project.
Arriva has operated the services since 2003, in which time annual passenger-journeys have grown from 18 million to 33 million and the number of trains per day from 620 to more than 1 000. The outgoing operator said around 2 300 staff would transfer to the new operator, including more than 800 who had been with Arriva Trains Wales for the full 15 years.
'We have invested over £33m in the past 15 years and created over 500 jobs, so we are leaving the Welsh railway network much stronger and safer than we found it', said Chris Burchell, Arriva Group's Managing Director, UK Trains.
The Wales & Borders Operator & Development Partner contract was described in detail in the July 2018 issue of Railway Gazette International magazine, which subscribers can access in the digital archive.