INDUSTRY:?Last year's rebranding of Hyundai Rotem is a key element in strengthening the company's image in the international market. Chief Operating Officer of Total Rail Systems Lee Sang-Kil tells Chris Jackson that the company is looking to raise its export business to 70% of turnover.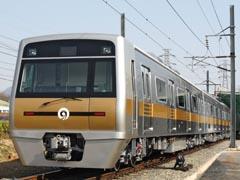 The award of a contract to supply cars for the Almaty metro in Kazakhstan earlier this year marks Hyundai Rotem's entry into the CIS market. This was followed by orders to supply double-deck coaches to Boston — the company's third contract from a US commuter rail operator — and electrical equipment for metro Line 3 in Shenzhen. It all underlines Hyundai Rotem's drive to become a global player, according to COO Lee Sang-Kil.
Although the company in its current form only dates back to the July 1999 merger of the rolling stock business units of Hyundai, Daewoo and Hanjin to form Koros, Lee says the three firms brought many years' experience in the domestic rail market. And since the Rotem name was adopted in January 2002, the company has become increasingly prominent on the international stage. As well as metro cars for Hong Kong, Delhi and Athens, the company supplied DMUs to Syria and Iran, breaking into the European market with a build of 120 inter-city DMUs now being delivered to Iarnród Éireann in Ireland. It is also supplying 12 two-car DMUs for TCDD in Turkey. At the end of last year the company was rebranded as Hyundai Rotem, which Lee says is 'intended to establish an integrated image of "trustworthy" and "systematic" as a member of the Hyundai Motor Group, while maintaining Rotem's speciality that has been nurtured over the past four decades'. Based on these values and experience, he says Hyundai Rotem will 'contribute to the development of the domestic railway industry and make steady efforts to become a global leader'.
With activities in the defence sector, plant and machinery as well as rail, Hyundai Rotem has around 3800 employees. Turnover in 2007 was US$19bn, of which 50% was generated by the rail sector.
With global demand forecast to increase steadily over the next few years, Hyundai Rotem is investing more than US$50m to increase capacity at its Changwon plant by 2010. All production in Korea has been concentrated here since in 2006. At that time the plant had seven assembly lines: five for stainless steel carbodies, one for aluminum and one for mild steel shells. A second mild steel line and a sixth stainless-steel line were added in 2007, and a further aluminium body assembly line will be inaugurated this year, bringing total capacity to 850 vehicles/year. To accommodate the extra assembly lines, the plant is being expanded by 14%, from 106000 to 121000 m2. New buildings for testing, painting and warehousing are to be constructed by 2010, and two-shift working began in 2007 to accommodate the increase in production volume.
Additional capacity is being added through the establishment of local subsidiaries and manufacturing plants to support recent contracts in the USA and Turkey. These work closely with the manufacturing plant in Changwon and the R&D centre in Uiwang. Lee says 'we are using our US and Turkish subsidiaries as an advance base for our business extension, and in parallel we are extending outsourcing by co-operating with local construction, engineering and manufacturing companies'. He adds that Hyundai Rotem has a number of overseas offices, including Canada, India, Hong Kong, Greece and Ireland.
Hyundai Rotem was one of the main local sponsors of the recent World Congress on Railway Research in Seoul, which Lee said offered a very important platform for the Korean railway industry. As well as giving the different companies 'a foothold in the world market', WCRR also enabled them to become aware of 'bright technologies' from other countries with a more advanced railway sector.
Expanding the business
Over the next two or three years, Lee expects Hyundai Rotem to 'move into new markets, diversify our product range and expand our market share in target markets'. In 2007, he says, turnover in the domestic and international businesses was approximately equal, but 'export is growing very rapidly'. He says the company's longer-term target is to achieve a split of 70% export, 30% domestic.
Lee believes that 'opportunities in the domestic market are limited, as most city governments have already finished their major rail projects, although some are still planning light rail lines'. Increasingly, he says, metro and light rail projects are being structured as public-private partnerships, 'but it takes a long time to negotiate the finance for these, and the rolling stock is not a big element in the whole package'.
As a result, he explains, the company is 'diversifying its product range to become a total rail systems supplier', moving beyond its established base in the rolling stock sector. Hyundai Rotem has already started to gain prominence in the domestic E&M and signalling sectors. As consortium leader for Seoul metro Line 9, the company is 'responsible for a range of construction activities including buildings, machinery and elevators, platform screen doors, signalling, telecommunications and trackwork, as well as the rolling stock'. Hyundai Rotem is also responsible for E&M work on the Busan – Gimhae automated light metro and the Sin Bundang line (RG 4.08 p231).
Asked whether the company has identified specific targets for international expansion, Lee says 'our major focus is on the metro market and high speed trains for the next few years. KTX-II deliveries are due to start next year — so we will have a proven high speed technology with which we can go into the export market'.
He emphasises that KTX-II is not a derivative of the original KTX trains, which were essentially locally-built French TGV sets. 'Korea carried out its own high speed train project as a government-led R&D project, and successfully developed the 350 km/h Hanvit 350 over 10 years. KTX-II is the commercial outcome of this work, based on our own know-how.'
Korail has now ordered 19 10-car KTX-II trainsets to operate the Seoul – Mokpo (Honam), Iksan – Yeosu (Jeolla) and Milyang – Masan (Gyeongjeon) lines, with six sets to be delivered in June 2009, four in June 2010 and nine in December 2010. In addition, Lee sees opportunities for Hyundai Rotem to export Korean high speed trains to Turkey and Brazil, 'and maybe to the southeast Asian market — it would even be possible to consider Russia'. But he rules out China as a potential market, 'because there are four big international players already established there, with local partners and subsidiaries which are already manufacturing their own models of high speed train.'
He also rules out expansion into the tram sector for similar reasons. 'Siemens, Alstom and Bombardier already occupy the major portion of this market, and we think there is no profit in being a latecomer to the business'. Instead, 'we are planning to increase our market share by developing high-value rolling stock like high speed trains, next-generation EMUs and maglev trainsets.'
Table I. Major rolling stock orders

Year
Customer
Quantity
Delivery
LRVs and light metro cars
2000
Adana
36
2000
2005
Istanbul
34
2008
2005
Vancouver Canada Line
40 cars
2008-09
2006
Busan – Gimhae
50
2010
Metro cars
1998
Hong Kong MTR
104 cars
2001-02
2001
Delhi MRTC (Phase I)
240 cars
2002-07
2002
Incheon Airport line (AREX)
144 cars
2005-10
2002
Attiko Metro
126 cars
2003-04
2003
Salvador
24 cars
2008
2004
Hong Kong MTR
32
2006
2005
Seoul Line 9
96 cars
2008
2006
Seoul Line 2
354 cars
2007-09
2007
Seoul Line 3
358 cars
2009-10
2007
Sin Bundang Line
72 cars
2009-10
2007
Delhi MRTC (Phase 2)
192 cars
2009-10
2007
São Paulo Line 4
84 cars
2009
2008
Almaty metro
28 cars
2009-10
2008
Shenzhen Line 3
Electrical equipment for 144 cars
2009-10
Commuter rail
2001
Istanbul
92 EMU cars
2008-09
2005
Rio de Janeiro
80 EMU cars
2007
2006
Philadelphia (Septa)
120 EMU cars
2009-10
2006
Los Angeles (Scrra)
107 d/d cars
2009-10
2006
Miami (Sfrta)
14 d/d cars
2009-10
2007
Wellington
70 EMU cars
2010-11
2007
Tunis (Sncft)
76 EMU cars
2010
2008
Boston (MBTA)
75 d/d cars
2009-10
DMUs
2003
CFS (Syria)
50 cars
2006
2004
RAI (Iran)
150 cars
2007-09
2005
Iarnród Éireann
183 cars
2007-08
2005
TCDD (Turkey)
24
2008
High speed trains
2006
Korail (KTX-II)
10 x 10-car
2009-10
2007
Korail (KTX-II)
9 x 10-car
2009-10