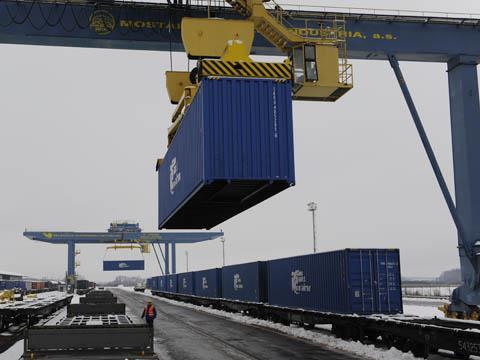 EUROPE: A further agreement for the construction of a 1 520 mm gauge railway from Kosice in Slovakia to an international logistics terminal at Wien was signed by the Russian, Ukrainian, Slovak and Austrian railway authorities during Russian President Dmitry Medvedev's visit to Bratislava on April 6.
The four-country joint venture formed in December to manage the project has appointed Roland Berger Strategy Consultants to lead the development of an investment feasibility study.
Business plan development and design work will be undertaken in 2011-13, with construction scheduled for 2013-15 and commercial services from 2016. Preliminary estimates say the cost could exceed €4·7bn.
The aim is to make the Trans-Siberian rail route more competitive with sea for freight from Asia to Central Europe. Eliminating the need to tranship between the ex-Soviet broad gauge and standard gauge will cut rail journey times from the Far East to Europe to 14 days, around half that of cheaper maritime transport and thus saving working capital on shipments.
Initial market research estimates that Kosice - Bratislava traffic could reach 23·7 million tonnes a year by 2025, with 18·5 million tonnes between Bratislava and Wien. The main westwards traffic will be containers, iron ore and metals, with containers taking European goods east to the 1 520 mm gauge network.