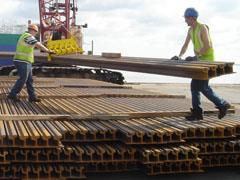 Belarus: AZD Praha and BETZ have won a KC65m contract to install ESA11-BC interlockings at Zhdanovichi, and provide ABE-1 signalling with LED lights on the 8 km route to Minsk-Severnyi.
Brazil: Thales is to supply SelTrac CBTC for the 18 km driverless São Paulo monorail Line 17 which is scheduled to open in 2014.
Denmark: On December 16 Banedanmark named Alstom and a Thales/Balfour Beatty Rail consortium as preferred bidders for contracts to supply ETCS Level 2 lineside equipment east and west of the Lillebælt (RG 3.09 p39).
France: RFF has awarded ETF, Setec Ferroviaire and Setec International a €180m contract for tracklaying and OHLE for the 106 km Baudrecourt – Vendenheim second phase of LGV Est-Européenne.
Colas Rail has been awarded a €5·5m contract to undertake electrification works for the Besançon tramway.
A Quille/Baudin/Chateauneuf/Colas JV is to expand Rouen's Saint Julien tram depot under a €4·8m contract.
India: Kolkata Metro Railway Corp has selected Ansaldo STS for a Rs2·94bn contract to supply signalling and telecoms for the 14·7 km East West metro line.
Northeast Frontier Railway has awarded a Hindustan Construction, DSD Brückenbau and VNR Infrastructures JV a Rs9·9bn contract to build the 4·3 km Bogibeel bridge over the Brahmaputra, with a double-track railway on one deck and road above.
Kenya: Indian firm KEC International has won a Rs490m order to supply track materials, tools and signalling equipment to KRC.
Netherlands: ProRail has awarded K Dekker a €5m contract to complete the Almere Poort station; the basic structure is already in place.
Norway: Bombardier is to supply Interflo 450 ETCS Level 2 equipment for the 80 km Ski – Sarpsborg line.
Peru: The Tren Eléctrico consortium has awarded Siemens a contract for electrification of the 12 km Phase 2 metro extension in Lima.
Romania: CFR has awarded a Thales-led consortium including Siemens and Nokia Siemens Networks a 162m lei contract for an ETCS Level 2 pilot programme on the 38 km line between Chitila and Crivina.
Singapore: LTA has selected China Railway 11 Bureau Group Corp for two four-year civil contracts totalling S$507m as part of the Tuas West Extension project. Work will start in January for completion in 2016.
South Africa: Transnet Freight Rail has awarded Zetica Rail a contract for radar scanning of 6000 km of trackbed to map ballast thickness and fouling, wetness and formation failure.
Spain: ADIF has awarded Cycasa Canteras y Construcciones, Canteras Cuadrado and Áridos de Villacastín contracts worth a total of €111m to supply 525000 tonnes of ballast for the 95 km Olmedo – Zamora section of the Madrid – Ourense high speed line.
Switzerland: SBB has awarded the ARGE Bahntechnik DML consortium of Rhomberg Bau, Implenia Bau and Cablex a SFr40m contract to fit out Zürich's Durchmesserlinie tunnel.
Turkey: Salini Costruttori and Kolin Insaat have won a €146·8m contract to modernise the 56 km Köseköy – Gebze line to allow 160 km/h running on the existing conventional route into Istanbul as part of the Ankara – Istanbul high speed project.
UK: Two Crossrail station construction contracts were announced on November 23: BAM Nuttall, Ferrovial Agroman and Kier will build Farringdon station, while Balfour Beatty, Morgan Sindall and Vinci will build Whitechapel for £110m.
Taylor Woodrow has been awarded a contract to upgrade London Underground's Ealing Common and Upminster depots to maintain the Bombardier S7 fleet now being delivered.
USA: Aecom has been awarded a $10·6m contract to prepare design documents for the Rampart/St Claude tram extension in New Orleans.
Peninsula Corridor Joint Powers Board has selected Parsons for a $138m four-year contract to supply Communications-Based Overlay Signal System PTC for the Caltrain commuter route between San Francisco and San Jose.
A Kiewit/Stacy & Witbeck/Reyes/Parsons JV has won a $150m design-build contract to extend the DART Orange Line 8 km to Dallas/Fort Worth airport Terminal A by December 2014.