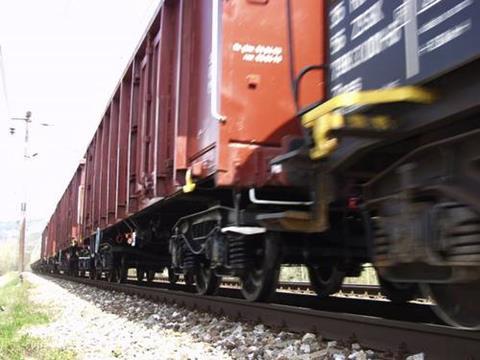 Benin: Rites has placed an order with India's Golden Rock workshop for the refurbishment of three metre-gauge diesel locos for use in Benin. They will be shipped in October.
Bosnia: BHZJK has awarded Croatian firm TZV Gredelj a €4·1m contract to modernise three ex-DB Class 212 diesel-hydraulic locomotives and one Class 642 diesel-electric by September 2009.
Croatia: HZ has awarded TZV Gredelj a 30m kuna contract to modernise four locos by September 2009.
Czech Republic: In June CD Cargo rolled out a Class 218 electro-diesel loco converted from a Skoda Class 210.028 by the Ceské Budejovice works and CZ Loko. The frame, bogies and cab have been retained, and it has been fitted with a 384 kW Caterpillar 3406 engine and a Siemens alternator. CD Cargo may convert several more if the loco proves successful on trip freight and shunting duties.
On June 11 railway authority DÚ granted unrestricted approval for the use of ÖBB Class 1216.2 electric locomotives on Czech infrastructure.
On July 9 CD Cargo awarded CZ Loko a contract to rebuild 30 out-of-use Class 750 and 753 diesel–electric locos as Class 753.7 by 2010. To be fitted with Caterpillar 5312B DI-TA engines rated at 1 455 kW, they will be sold to ING Lease and leased back.
India: Czech firm Bonatrans has won a €10m contract to supply wheelsets for 424 metro cars Bombardier is building for Delhi (RG 5.08 p279).
US firm ITT Corp is to supply Indian Railways with Koni dampers and shock absorbers worth US$1m.
Ireland: The Railway Procurement Agency has awarded Alstom a €15m five-year contract to maintain 18 additional Citadis trams on order for Dublin's Green Line.
Israel: The first of 87 coaches ordered from Siemens for inter-city and regional services arrived in Ashdod on June 18. ISR expects to begin trials this month, and regular service by November. Built in Praha with bogies from Graz, the coaches are 24·4 m long and 2·86 m wide, and weigh 47 tonnes. One car per set has a generator and cab for push-pull operation at up to 160 km/h.
Malaysia: China Northern's Tai-yuan plant has won an order to supply a TY2T-C300 catenary maintenance vehicle with a top speed of 95 km/h.
Mozambique: At the end of June India's Golden Rock workshop dispatched two refurbished diesel locomotives to Nacala. They have been fitted with new lights and converted from metre to 1 067 mm gauge.
Netherlands: On June 25 Stadler's Bussnang plant rolled out the first of eight GTW EMUs ordered by Veolia in February 2007 at a cost of €29m. They are to be used on Maastricht – Kerkrade services.
Poland: On July 9 the Opole region signed a 34·5m zloty order with PESA for five two-car DMUs for local services between Opole, Nysa and Kedzierzyn-Kozle. The first will delivered this year, the last in 2010.
Sole bidder Siemens is to supply PKP Intercity with 10 ES64UA multi-system electric locos for 200 km/h passenger services. Testing of the first is expected to begin by the end of 2008, and deliveries will be completed in two years. The €44·5m order is financed from a 2006 EIB credit agreement.
Slovenia: SZ has awarded ÖBB Technische Services a €12m seven-year contract to maintain its 32 Class 541 Siemens Taurus 3 electric locomotives.
Spain: A consortium of Bombardier and Talgo has been awarded a 14-year contract to maintain 45 S-130 trainsets at RENFE's Santa Catalina and Fuencarral depots in Madrid.. The contract runs to 2022, with Bombardier valuing its share at €128m.
Ukraine: Ferrexpo Poltava Mining plans to lease a further 440 wagons for its iron ore and pellet traffic during 2008, following an initial trial with 110 vehicles last year. Swiss-based Ferroexpo group expects to benefit from UZ's reduced tariffs for customers providing their own rolling stock.
Sinara Transport Machines has signed a 300m rouble contract to supply mining logistics firm Region with 10 TGM6D diesel locomotives. They will be built at the Lyudinovo Locomotive Plant in Russia.
UK: By the June 30 deadline both prequalified consortia submitted bids to supply trains under the Department for Transport's Intercity Express Programme (RG 4.07 p185). Express Rail Alliance is a consortium of Bombardier, Siemens, Angel Trains and Babcock & Brown, while Agility Trains comprises Hitachi, Barclays Private Equity and John Laing Projects & Developments.
The Scottish Government announced an order for 16 four-car and 22 three-car Siemens Desiro EMUs on July 11. HSBC will finance the trains in a deal valued at more than £180m, and they will be leased by First ScotRail under a 17-year contract.
USA: The first two Colorado Railcar diesel railcars for TriMet's Wilsonville to Beaverton Westside Express Service in Oregon were delivered to the Wilsonville depot on June 19. TriMet has ordered three single-car units each with two 600 hp Detroit Diesel engines, plus a trailer car for times of high demand. Work on the $117m line is more than 90% complete, with revenue service on the 22 km route scheduled to start in October or November. Trains will initially run in peak hours only, operated by Portland & Western Railroad.