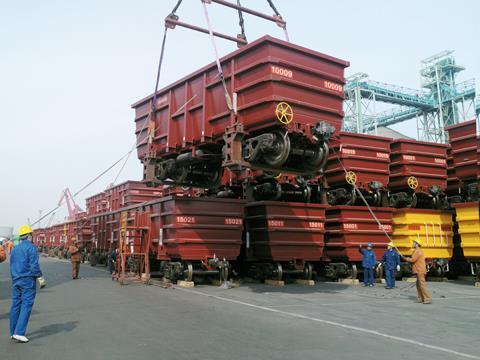 Argentina: 50 grain wagons are being refurbished for Belgrano Cargas by the workshops at Tafí Viejo in the province of Tucumán, which have been restored to operating condition by the federal government.
Brazil: GE Transportation South America's plant in Contagem was due to supply América Latina Logística with 10 AC44i 1600 mm gauge diesel locomotives by the end of 2009, the manufacturer announced on December 3.
China: Shenzhen Metro has ordered battery-electric maintenance vehicles from CSR Zhuzhou for delivery to Line 2 in February 2011.
The first Class HXD2B locomotive has been undergoing running tests at Velim in the Czech Republic before shipment to Wien Arsenal for climate trials. Chinese Railways has ordered 500 of the 9600 kW Co-Co electric locos from Alstom, which is building them in conjunction with CNR Datong; the first locally-built version was completed in December.

Czech Republic: CD has ordered a further 15 Skoda CityElefant double-deck EMUs at cost of KC3·3bn. To be delivered by December 2011 for use around Praha and Ostrava, they will bring CD's Class 471 fleet to 75 units.
Denmark: At the end of November DSB began putting into service 45 Bombardier double-deck coaches leased from Railpool (RG 11.08 p844).
France: On December 1 Alstom handed over the 200th Coradia Duplex TER-2N NG EMU to SNCF. 233 sets are on order for France, and 43 of the X40 variant have been supplied to Sweden's SJ.
Germany: DB Regio has placed the first firm order for Alstom Coradia Lint 41 DMUs within a 2008 framework agreement for up to 180 units. The €40m order announced on November 26 covers 16 two-car VT648.4 units for use on regional services in Schleswig-Holstein from December 2011.
Iran: Plans have been announced for around 90% of RAI's locomotive fleet to be transferred to private sector ownership over five years, leaving the state railway with a small fleet for rescue and recovery purposes.
In November CSR Zhuzhou shipped the first 14 of 42 TM3 electric locomotive ordered in March 2008 for use on 140 km/h local passenger services.
South Korea: Hyundai Rotem has appointed UK consultancy Frazer-Nash to assess the crashworthiness of an aluminium-bodied commuter EMU under development for the Korean market. Hyundai Rotem hopes export orders will follow.
Poland: Pesa's 148m złoty bid to supply 10 three-car ATR220 DMUs was the only response to a tender called by Zachodniopomorskie voivodship. Koleje Mazowieckie has ordered 20 Elf EMUs from Pesa, and Slaskie eight units.
A joint bid by ZNTK Minsk Mazowiecki and Pesa was the winner of a tender to supply five two-car DMUs to Lubelskie. Intended as low-cost units, they will have 130 seats and a top speed of 120 km/h.
Solaris has signed a 342m złoty contract to supply 40 low-floor uni-directional trams to Poznan. The five-module Tramino LF 32 cars will be delivered between June 2011 and March 2012.
Przewozy Regionalne has leased 10 Bombardier Traxx F140MS electric locomotives from Railpool for inter-regional services and cross-border trains to Germany.
Slovenia: The last of 32 Class 541 Eurosprinter triple-voltage electric locomotives ordered from Siemens was delivered to SZ on November 5.
Sweden: Göteborg has ordered a further 25 AnsaldoBreda Sirio trams designated Type M32 at a cost of €61m, under the terms of a 2001 contract for 40 trams which included options for up to 80 more vehicles (RG 8.01 p497). The latest batch will feature an updated control system.
Switzerland: Following trials, last month Baselland Transport placed a SFr74m firm order for 15 Stadler Tango trams for delivery in 2011-12. A SFr276m framework contract for up to 60 was agreed by Basel city operator BVB (20 vehicles) and BLT (40) in May 2006.
SBB has awarded VTG Graaf a contract to rebuild 214 Tagnpps grain wagons with reinforced sides to prevent cracking.
USA: Railrunner has launched its bi-modal ReeferPro 100 as a road-rail chassis with an onboard generator which can power a refrigerated 40 ft container for up to six days.
Uzbekistan: On November 25 state railway UTY signed a €38m order for two Talgo AVE 250 trainsets to operate the Toshkent – Samarkand route.