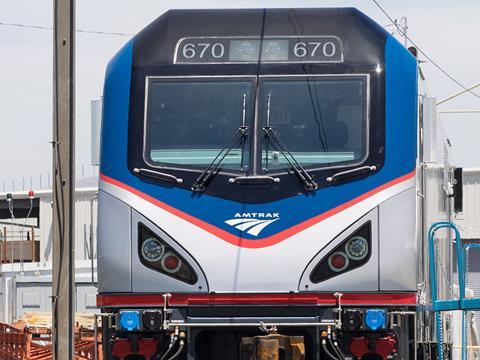 USA: Siemens announced on October 9 that it had made a 'significant' equity investment in Wi-Tronix, which provides remote monitoring, video analysis and predictive diagnostic software as a service for rail infrastructure and rolling stock operators. Terms were not disclosed, and Wi-Tronix is to remain a standalone, founder-led company.
Around 12 000 locomotives are equipped with Wi-Tronix systems, primarily in the USA, Canada, Mexico and Australia. These include 70 Siemens ACS-64 electric locomotives operated by Amtrak.
'Wi-Tronix is a leading innovator in real-time monitoring for rail', said Johannes Emmelheinz, CEO of Customer Services at Siemens Mobility. 'The company has profound expertise in key technologies such as video analysis, providing unique information for both real-time and predictive applications. Partnering with developers of exceptional technologies is a key part of our strategy to deliver expansive digital services for predictive maintenance.'
'We were very deliberate in seeking the ideal partner', said Wi-Tronix President & Chief Technology Officer Larry Jordan. 'With Siemens' global reach and resources, we will accelerate development of our products and expand our footprint'.