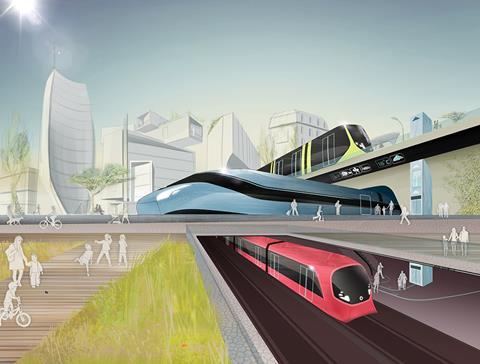 ALSTOM: Chairman & CEO Henri Poupart-Lafarge and CFO Marie-José Donsion presented Alstom's strategic, operational and financial priorities for 2020 at a meeting with investors and financial analysts at its signalling site at Villeurbanne in France on March 30.
Following the divestment of its energy activities to GE, Alstom is now focused on transport, a market which it said is showing steady growth of 2·8% per year with strong demand driven by urbanisation and environmental concerns. Urban transport remains the market sector with the most significant growth, averaging 4·1% per year.
Alstom's ambition for 2020 is to be 'the preferred partner of cities, countries and operators, providing an answer to their mobility needs'. This means being a top-tier player in all regions and markets. The company recognises that its customers operate in varying national regulatory environments, and says that all require capital and operational expenditure optimisation through reduced maintenance costs, energy savings, life extension and improved availability. Requirements increasingly include improved safety and environmental performance, while the ability to localise production and engineering is becoming a driver of decisions by public-sector customers.
The strategy for 2020 is based on five pillars:
Customer-focused organisation: Alstom aims to be number one or two supplier in all continents, and to achieve this will be structured as 'empowered' regions each with their own supply chain using local resources and strengths. Alstom is to spend €300m to reinforce its networks and local competences over the next three years.
Complete range: Alstom aims to offer the widest range of products and services, from components to trainsets to fully-integrated systems, with signalling, systems and services to represent 60% of sales by 2020.
Value creation through innovation: Alstom believes innovation offers competitiveness and differentiation, and wants 30% of its orders to come from newly-developed products by 2020. The main areas of development are the total cost of ownership and the passenger experience.

Operational & environmental excellence: Alstom aims to reduce its costs to outpace global price decreases and support margin improvement, with sourcing savings expected to increase to €250m/year. Manufacturing and engineering footprints will grow globally, while in Europe they 'will be adapted to the workload'. There will be 'strong management actions in place' on working capital, while energy consumption is to be reduced by 20% for products and by 10% for operations by 2020.

Diverse & entrepreneurial people: Alstom currently employs 32 000 people. It is aiming for 25% of management or professional roles to be occupied by women and 50% of the senior management and talent pool to be non-European within five years.
Alstom recorded sales of €6·2bn and booked €10bn of orders in the 2014-15 financial year. Its objective is that sales should grow organically by 5% per year by 2020, with around 100% conversion from net income into free cash flow. Adjusted EBIT margin should reach around 7% by 2020, driven by volume, portfolio mix and the results of 'operational excellence' actions.