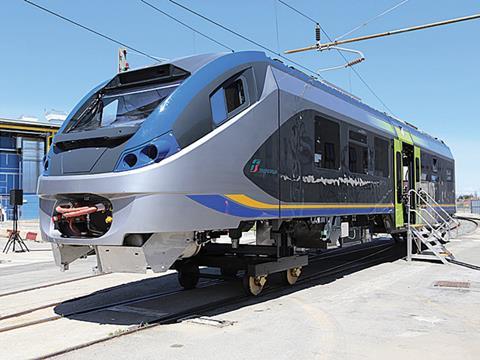 ITALY: The first of 70 Coradia Meridian EMUs being built for Trenitalia under a €450m contract signed in November 2012 was inspected by Mauro Moretti, Chief Executive of national railway FS, at Alstom's Savigliano plant in June.
The 160 km/h articulated EMUs are an update of Alstom's Minuetto design. They will feature CCTV, information screens and at-seat power sockets. Retractable steps to eliminate the gap between the trains and platforms will provide easy access to passengers with reduced mobility.
Three interior layouts have been designed. As well as 37 five-car regional trains, there will be 12 five-car and 16 four-car high-density suburban units with fewer seats and more standing space, and five five-car sets with additional luggage space for use on airport services.
The first unit is expected to be delivered in January 2014.