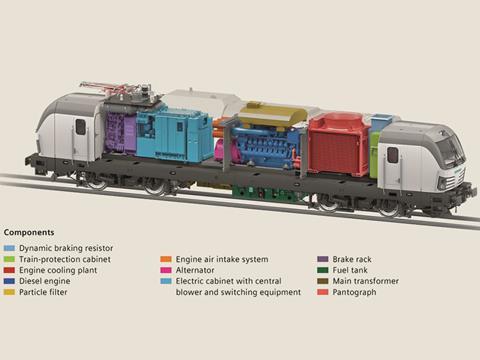 GERMANY: Siemens Mobility has started the construction of two prototype Vectron Dual Mode electro-diesel locomotives, filling a gap in its current product range. The first is expected to be ready for display at the Transport Logistic fair in München next June. With authorisation for operation in Germany expected by the end of 2019, the company hopes to be able to start commercial deliveries in 2020.
Drawing on the existing diesel and electric Vectron variants, the 160 km/h Bo-Bo locomotive is intended primarily for freight. It will be able to take power from the 15 kV 16·7 Hz overhead line or from a 2 400 kW MTU engine, giving 2 000 kW of traction power at wheel and 300 kN of tractive effort. With a full 2 500 litre fuel tank, the total weight will be around 90 tonnes, keeping the maximum axleload within the UIC standard 22·5 tonne limit.
According to Siemens, the Vectron Dual Mode is not an electric locomotive with a 'last-mile' diesel, but a fully functional diesel locomotive for main line applications. This would make it ideal for routes that are only partially electrified or for diversions in the event of incidents or engineering work. An initial simulation based on 80% electric and 20% diesel operation predicts an annual saving of 950 tonnes of CO&sub2; equivalent and a 53% reduction in energy and maintenance costs compared to running a conventional diesel locomotive under the wires.
While the 2 000 kW traction rating would be sufficient for many applications, the Vectron Dual Mode has been designed for double-heading on heavy trains. It will be able to run in multiple with both diesel and electric Vectrons, as well as the earlier Siemens Eurorunner diesels. PZB train control will be fitted for use in Germany, but the design is 'ETCS-ready' to facilitate retrofitting.