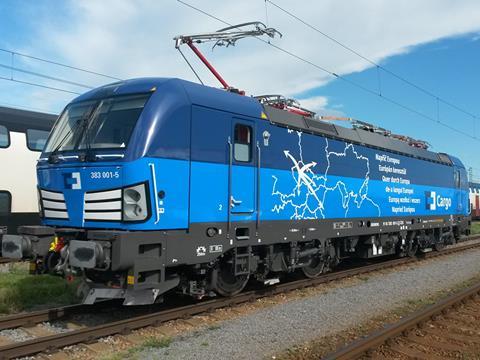 CZECH REPUBLIC: The first of five Siemens Vectron MS electric locomotives for ČD Cargo was delivered on May 28, ahead of a planned formal unveiling at the Czech Raildays trade fair which is to be held in Ostrava on June 14.
The loco underwent running trials under 3 kV DC electrification between Velim and Poříčany and using 25 kV 50 Hz electrification at the Velim test centre.
As part of its international expansion strategy, on April 13 ČD Cargo signed a KC500m contract for five locos to be delivered by the end of 2016. Designated Class 383, the 6·4 MW locos with a maximum speed of 160 km/h will be able to operate under 15 and 25 kV AC or 3 kV DC electrification, and will be equipped with ETCS Level 2. They will be suitable for use on the domestic SŽDC network and also in Slovakia, Austria, Germany, Poland, Hungary and Romania.
ČD Cargo plans to deploy the Class 383 on transit automotive and intermodal trains trains from Slovakia and Hungary to the ports of Hamburg, Bremerhaven and Rostock and possibly to Rotterdam.