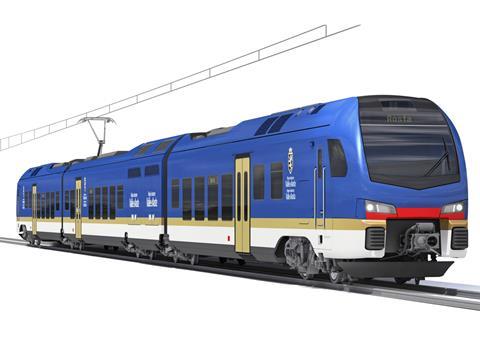 ITALY: The Valle d'Aosta region placed the first order for an electro-diesel version of Stadler Rail's Flirt multiple-unit on May 12. Five Flirt3 units are to be delivered in 2018 for use on Aosta – Torino services.
Each of the units will have three passenger cars, plus the diesel power module. Stadler said the interior options have been selected to provide 'an optimal balance of light-filled spaciousness, a sense of roominess, a pleasant and inviting appearance, and adequate comfortable seating'. Each unit will have 178 seats, including 19 tip-up seats, and a TSI-PRM compliant accessible toilet. A fourth car could be added in the future if required to meet increased passenger demand.
The units will be rated at 2 600 kW with a maximum speed of 160 km/h when operating from 3 kV DC overhead electrification, and 700 kW with a maximum speed of 140 km/h when powered by the two Stage IIIB compliant Deutz TCD 16.0 V8 diesel engines.
The contract is worth €43m, including with staff training, technical documentation, spares and five years of maintenance. There are options for a further five trainsets and a three-year extension of the maintenance contract, which would take the total value to €94m.