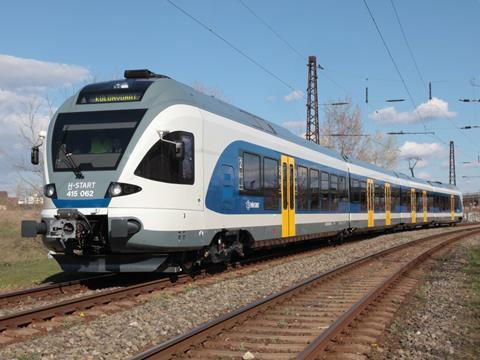 HUNGARY: The first of 21 additional Flirt electric multiple-units to work Budapest suburban services will be delivered later this year, under the terms of a €125m contract between national passenger operator MÁV-Start and Stadler Bussnang AG signed in Budapest on July 15.
'This day will be written in bold letters into the history of Hungarian Railways', said MÁV-Start CEO György Zaránd. The deal will bring the total number of Flirts in the fleet to 123. Stadler Rail Group's Country Manager Zoltán Dunai added that over 10 years the company had now sold 133 trains in Hungary 'with high domestic added value', making it 'one of the most significant suppliers' to the national railway.
Tenders for the extra units were called in March, and the operator announced at the end of June that Stadler had been selected as preferred bidder. The procurement was split into two batches to meet the terms of a European financing agreement. The first six trains are being funded through the EU's current Transport Operational Programme, which expires this year, so the trains have to be ready by the end of October. The other 15 will be financed through the Integrated Transport Development Operational Programme, and are due for delivery by the end of 2016. Bidders were given the option of bidding for one or both builds.
The 25 kV 50 Hz low-floor EMUs are designed for 160 km/h operation, and will be equipped for ETCS Level 2. Each unit will seat 211 passengers. The air-conditioned trains have accessible toilets, a multi-function area with bicycle storage and comprehensive passenger information systems. Free wi-fi and charging sockets will also be provided.