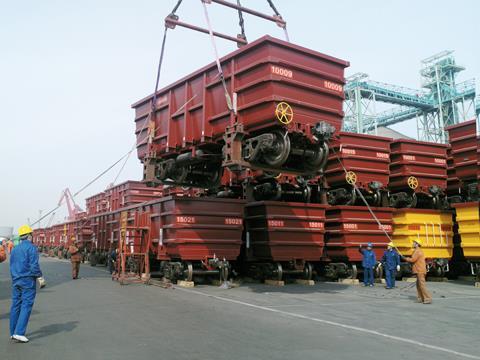 Australia: Western Australia's Public Transport Authority has awarded the EDI Rail Bombardier Transportation JV a contract to supply an additional 10 B-Series three-car EMUs in a deal which includes maintenance of the A and B series fleets until 2026.
Brazil: Scomi Engineering has won a 504·6m ringgit contract for rolling stock and electro-mechanical systems for São Paulo monorail Line 17 (Gold).
Cuba: The Russian Agency for Export Credit & Investment Insurance is to provide €190m to Unión Ferrocarriles de Cuba to fund the acquisition of 60 new TGM8 and 15 TGM4 diesel locomotives from Sinara Transport Machines, repairs to 75 existing locomotives and new Russian equipment for La Ciénaga workshops in Habana.
Czech Republic: GW Train Regio has bought four ex-DB Class 628 two-car DMUs which are to be overhauled by CZ Loko as Class 845 for use from the December timetable change.
Europe: Hector Rail has purchased 10 ex-DB Class 151 'cost efficient and powerful' six-axle electric locomotives for use in Germany, plus five as sources of spare parts. All are to be refurbished by the end of 2017.
On June 17 Siemens announced a contract to supply Mitsui Rail Capital Europe with a further 10 Vectron locomotives, which will take its fleet to 66. They will be fitted with ETCS as well as national train control systems for routes between Germany, Austria and Italy.
European Locomotive Leasing has signed a framework for up to 50 more Siemens Vectron electric locos, with a firm order for an unspecified number to be delivered this year. The framework includes provision for locomotives equipped for use in Scandinavia and with diesel power modules.
On June 22 leasing company Akiem signed a framework for 52 Bombardier Traxx locomotives, with a firm order for 26 with a list price of €95m to be delivered from 2017. The framework covers AC and MS locos configured for 13 countries, with options for last mile engines and remote control. Akiem has also exercised an option for five Traxx DC locos under a previous contract.
Germany: Abellio Rail Südwest has signed a €215m contract for Bombardier to supply 24 three-car and 19 five-car Talent 2 EMUs for use on Neckartal services which it is to operate from June 2019 under the Stuttgart Netz 1a contract. The order is being financed using the 'Baden-Württemberg model', whereby the operator procures the vehicles which are then sold to Land rail authority SFBW and leased back.
VIAS Rail has ordered four Alstom Coradia Lint 54 DMUs to increase capacity on Odenwaldbahn services from December 2017.
FWM Fahrzeugwerke Miraustrasse has awarded Vossloh Kiepe a contract to undertake part of the refurbishment of 10 Hamburg U-Bahn DT3 trainsets.
Locomore announced on June 3 that it had finalised rolling stock contracts which should enable it to launch an open access passenger service between Berlin and Stuttgart on December 14, rather than in September as had been hoped. Hector Rail is to provide Siemens Eurosprinter locomotives and drivers, and a contract has been signed with SRI Rail Invest for the lease of eight coaches which are to be modernised with power sockets and wi-fi.
India: Integral Coach Factory is producing 40 custom-designed air-conditioned troop coaches for the Ministry of Defence, with increased water storage capacity, a reverse osmosis water purification plant, charging points at each berth, LED lighting, emergency windows in each bay, an onboard office, a document safe and additional inter-vehicle power connections.
Italy: CAF has been selected for a six-year framework contract to supply 10 six-car trainsets to operate on Napoli metro Line 1, with an option for 10 more.
CZ Loko has established an Italian subsidiary at Porto Mantovano, south of Verona, which will service 40 Class 753.7/752.5 and two Class 741.7 diesel-electric locos supplied second-hand from the Czech Republic.
Kenya: CCRC Qishuyan is to supply 56 diesel locomotives. 43 DF8B freight locomotives, five DF11 passenger locomotives and eight DF7G shunting locomotives by May 2017.
South Korea: Korail has selected Hyundai Rotem for a 102bn won contract to supply 30 HEMU 250 EMUs with a maximum speed of 250 km/h for the Gyeongjeon line which is due to open in 2020.
Netherlands: An Alstom H3 battery-diesel hybrid shunting locomotive leased from DAL is being tested at Tata Steel's Beverwijk works
Siemens has appealed against NS's decision to select Alstom as the preferred bidder to supply 80 Intercity New Generation EMUs (RG 6.16 p10).
Poland: Pesa is to rebuild eight 145A and two 144A coaches as restaurant cars for PKP IC.
MPK Wrocław has exercised an 11·5m złoty option with Modertrans for an additional three Moderus Beta partly low-floor trams, to be delivered in 2017.
Owing to a shortage of depot space, Koleje Slskie has awarded Stadler a 1·34m złoty contract to maintain its four Flirt EMUs; daily checks will still be undertaken by KS.
Olkol has won a 10·9m złoty contract for mid-life overhaul of seven PKP IC EU/EP07 locomotives, while Newag's Gliwice plant is to overhaul 27 Class EP09 locos for 40m złoty.
Portugal: Formerly CP Carga, Medlog has signed a long-term lease of four Euro 4000 diesel locomotives from Alpha Trains. Capable of operating in Spain, the locomotives are due to enter service in May 2017 following delivery from Stadler Rail Valencia.
Russia: With government support for the procurement of modern wagons, Federal Freight Co has ordered 400 Uralvagonzavod Type 12-196-02 open wagons with 25 tonne axleload bogies and a capacity of 75 tonnes and 94 m2.
Moscow has supplied 12 second-hand trams to Irkutsk and 10 to Smolensk.
TMH's Oktyabrsky Electric Railway Car Repair Plant is building two Type 81-581.4 battery locos for the St Petersburg metro.
Switzerland: SBB is revising the interior layout of Stadler Flirt EMUs used on Regio S-Bahn Basel route S1 to provide more standing space for short-distance commuting.
Thailand: On April 28 CRRC Ziyang signed a contract to supply TPI Polene with four more metre-gauge diesel locos. This follows orders for four placed in 1992 and eight in 2013. They will have three-phase transmission, a maximum speed of 10 km/h and axleload of less than 16 tonnes.
Bangkok Mass Transit System has signed two contracts for a total of 46 four-car trainsets to operate on the Skytrain elevated metro. Siemens is to supply 22 trainsets and CRRC Changchun Railway Vehicles Co is to supply 24.
Ukraine: Lviv tram operator Lviv-electrotrans has unveiled its first rebuilt Tatra KT4 tram, completed at a cost of 500000 hryvnia. The operator expects to introduce at least four rebuilt trams into service this year.
UK: On June 8 Great Western Railway announced a deal to lease 37 four-car Bombardier Class 387 Electrostar EMUs from Porterbrook Leasing. The deal covers 14 EMUs previously ordered speculatively by Porterbrook, plus 23 being built specifically for GWR. A further eight were already on order.