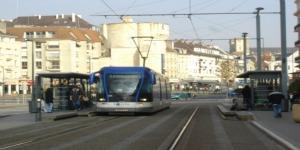 FRANCE: On December 14 Caen transport authority Viacités confirmed its intention to abandon its TVR rubber-tyred guided light transit route and replace it with conventional light rail by 2018.

Viacités estimates it will take 18 months to replace the TVR guideway with tram track on the 15∙7 km Y-shaped network, at a cost of €170m. The change will require the termination of two concession contracts currently held by Keolis and Bombardier-Spie Batignolles consortium STVR.

Following completion of the network at a cost of €215m, local operator Twisto began TVR operations in November 17 2002 under a 30-year concession. This was two years after a similar TVR service began in Nancy. However, the TVR technology has proved unreliable, and is no longer being actively supported by the manufacturers.
Conversion to light rail is expected to pave the way for construction of a second line in the future.