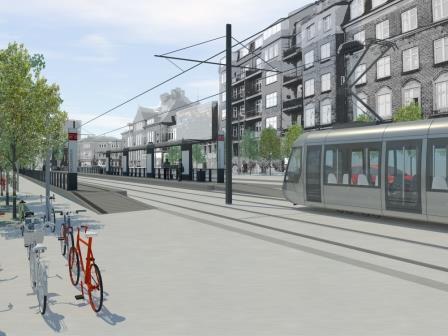 DENMARK: A consortium of Stadler and Ansaldo STS has been selected as preferred bidder for a turnkey contract to build and equip the first stage of the Aarhus light rail scheme. Project promoter Aarhus Letbane I/S expects to sign the contract 'before the summer', following more than a year of negotiations.
'This is an important milestone for the company', said AL Director Claus Rehfeld Moshøj. 'Now Denmark's first light rail scheme can really get started.'
Phase I of the Letbane scheme is expected to open for revenue service in 2017. It involves the construction of a 12 km double-track tram route through the city centre from Nørreport to Lisbjerg-Lystrup via the main university campus at Skejby. The line would be connected at both ends to the Banedanmark network, allowing tram services to run south from Nørreport through Aarhus H to Odder (26·5 km) and north to Hornslet and Grenaa (69 km).
Ansaldo STS will be responsible for the infrastructure elements of the scheme, drawing on its experience of the Danish market through a 20-year involvement with the København metro. 'It was important for us that the light rail system and trains in Aarhus be based on tried and tested technical solutions', said Moshøj.
Stadler is to supply two types of low-floor car to work overlapping services. The long northern tram-train route from Grenaa to Aarhus H will be worked by a batch of eight 39·2 m long Tango cars similar to those operating in Lyon and Stuttgart; these will be able to carry 266 passengers and operate at up to 100 km/h. The southern service from Lisbjerg-Lystrup and Skejby to Odder and will be worked by 15 VarioBahn cars similar to those supplied to Bergen and Croydon. These cars will be 32·4 m long with capacity for up to 224 passengers. All vehicles are required to have onboard wi-fi, while the tram-train cars will also be equipped with toilets.
Up to 12 trams/h will operate on the city centre section south of Skøjby, with three tram-trains continuing to Hornslet and one to Grenaa. The southern route will see four trams/h as far as Tranbjerg, of which two will reach Odder.
Read more about the Aarhus tram-train project in the September 2013 issue of Metro Report International, available to subscribers in our digital archive.