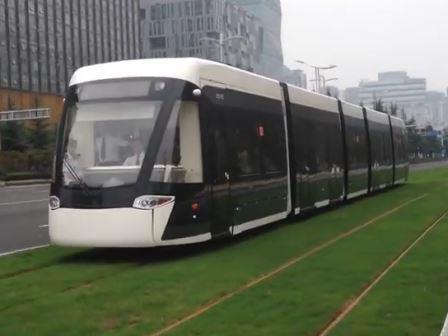 CHINA: The Hexi Line of the Nanjing tramway opened for passenger service during the Youth Olympic Games, following a period of test running that started on July 1.
Two trams have entered service, with a further two delivered. There will eventually be eight trams operating services on the 8 km line that connects the Olympic Sports Centre, International Expo Centre, Youth Olympic Village and Fishmouth Wetlands Park. Four of the 13 stops offer interchange with the metro.
A further seven trams are to operate the 9 km Qilin Line, a partly elevated route with steep gradients. This is scheduled to open later this year.
The 100% low-floor trams are being built locally by CSR Nanjing Puzhen Rolling Stock Co. The vehicles are based on Bombardier's Flexity 2 platform, under a 10-year technology licensing agreement signed in 2012. Bombardier is supplying Mitrac propulsion equipment, Flexx Urban 3000 bogies and Primove lithium-ion traction batteries. These are recharged through the pantograph at stops, as only 10% of the route is equipped with catenary. These are the first trams in passenger service equipped with Primove batteries.