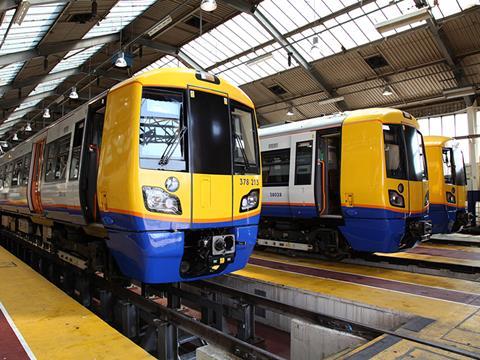 UK: Transport for London announced on June 19 that it had selected Bombardier Transportation to supply 45 four-car electric multiple-units to operate London Overground services. The order includes an option for up to 96 additional cars, to be used for train lengthening and possible future extensions of the Overground network. The £260m contract is subject to the statutory 10-day standstill period before signing. CAF, Hitachi and Siemens had also been shortlisted for the contract.
The high-density air-conditioned trains with wide gangways are to be built at Bombardier's Derby factory for entry into service from 2018; 31 will run only on 25 kV overhead electrification and the rest will be dual-voltage to enable them to run on third-rail power supply too.
Eight trainsets would be used to operate the Gospel Oak – Barking route, currently operated with two-car diesel multiple-units. Electrification of this route is due to be completed in 2017. A further 30 would replace the fleet of Class 315 and Class 317 EMUs on the West Anglia routes from Liverpool Street, which were transferred to the Overground operating concession on May 31, and one would be used on the Romford – Upminster line. Six EMUs are to be put into service on the remaining Overground routes.
'These 45 new trains will significantly improve the comfort, reliability and overall quality of train services for our customers', said TfL's Managing Director of London Rail Mike Brown. 'Some of the trains we have inherited along the West Anglia route are over 30 years old and have not been in use for some time.'
TfL is to spend £2m on refurbishment of the existing West Anglia fleet until the new trains arrive.