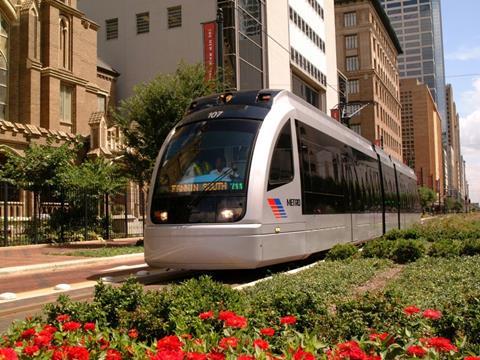 USA: Revenue services have started running on Houston Metro's 8·5 km North Line light rail route following an official inauguration on December 21 and a day of free rides.
Running north from UH Downtown in the city centre through Moody Park and Lindale to the Northline Transit Center, the line forms an end-on extension to the existing 12 km Main Street Red Line, which opened in 2004 and is currently carrying around 40 000 passengers per day. The extension adds eight new stops, including two bus-rail interchanges at Burnett and Northline.
Built at a cost of $756m and opened several months ahead of schedule, the North Line is one of three routes being built under a $900m Full Funding Grant Agreement signed with the Department of Transportation in November 2011, which will almost treble the size of the network to 33·8 km. The East End Line will link Theater District with Magnolia Park Transit Center, serving nine stops including an interchange with the Red Line at Main Street Square. The Southeast Line will diverge from the East End Line at EADO/Stadium and run to University Oaks and Palm Center, adding a further six stations.
These two lines are both expected to open during 2014, although the construction of an underpass below the Houston Belt & Terminal Railroad at Harrison & 66th Streets means the final 2 km of the East End Line may not be ready until the end of 2015.
During the North Line opening ceremony, Metro Chairman Gilbert Garcia, suggested that the city was now at a 'wonderful turning point. Now that there are transit choices and people get accustomed to using light rail, I think they are going to see how easy it is, how efficient and reliable it is', he explained.
To operate the extended Red Line, Metro has purchased a further 19 Siemens Avanto S70 LRVs, similar to the 18 supplied for the initial route. Following the cancellation of an earlier contract under Buy America rules, the city has also ordered 39 CAF low-floor cars to operate the East End and Southeast lines, which will be designated as the Green and Purple lines respectively.
Of the remaining two lines in Metro's chequered light rail expansion programme, the 8 km Uptown Gold Line from Bellaire to the Northwest Transit Center is initially being built as a bus rapid transit route in order to bring forward the opening to 2017, albeit designed for conversion in the longer term. No decision has yet been taken on construction of the 18 km University Blue Line from Hillcroft to Eastwood.