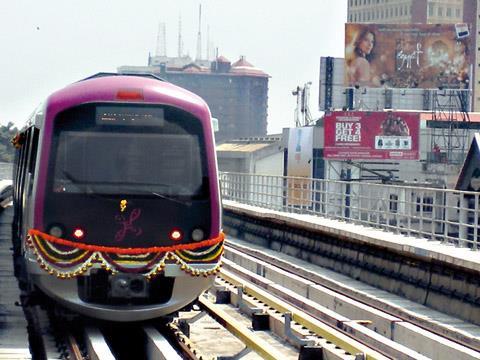 INDIA: The first section of the Bangalore metro, now branded Namma Metro ('our metro'), was opened by Urban Development Minister Kamal Nath on October 20. The 6·7 km elevated 'Reach 1' from Byappanahalli to Mahatma Gandhi Road forms the eastern section of the 18·1 km east-west line, serving six stations.
The next stage will include a 4·9 km underground section through the city centre from MG Road to the main station, adding four more stops. From here the line will return to viaduct for the 6·5 km Reach 2, which will serve five intermediate stations before terminating at Mysore Road on the western side of the city.
BMRC is also developing a 24 km north-south route from Yeshwanthpur to RV Road, with 21 stations. This line will have a 3 km underground section with three stations in the city centre, including an interchange with the east-west line at the railway station.
Longer-term plans include a northern extension from Yeshwanthpur to Hesargatta Cross in the northwest and a southern extension from RV Road to Puttenhalli Cross. This would add another 66·9 route-km, with all four radial routes extended further into the surrounding suburbs.