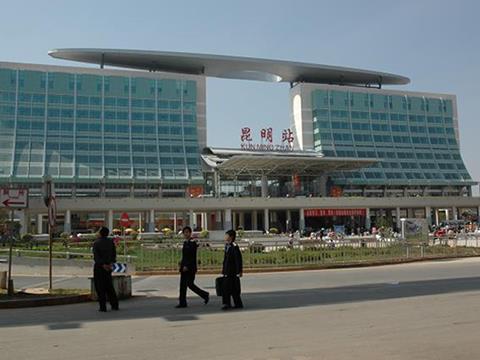 CHINA: Construction of 141 km line from Yuxi, south of Kunming, to Mengzi on the route to the Vietnamese border was officially completed on August 14.
Just over half of the route is on viaducts or in tunnel, reflecting the challenging local topography, and the 4·5bn yuan cost has been funded jointly by the Ministry of Railways and Yunnan province. Services are expected begin by the end of the year.
Work is underway to continue the line from Mengzi to the Vietnamese border town of Lao Cai as a key element of China's efforts to improve cross-border infrastructure. This section parallels the existing metre-gauge line which links the Vietnamese capital Hanoi with Yunnan province, but has speeds limited to just 30 km/h.
The new route is primarily intended for freight, with a maximum speed of 120 km/h. It will form the easternmost of three north–south lines planned to link southwest China with neighbouring countries in the Asean community.