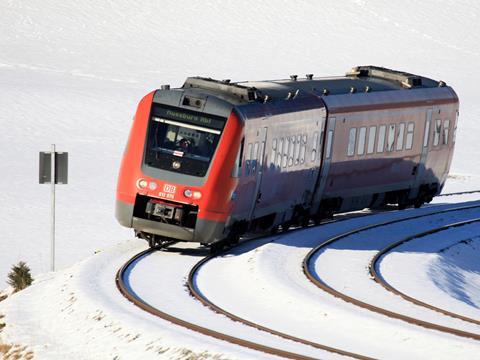 GERMANY: The Länder of Bayern and Baden-Württemberg have awarded DB Regio two contracts to operate Dieselnetz Allgäu passenger services between December 2017 and December 2029.
The services were tendered as two lots, with Lot 1 covering regional express services between München, Augsburg and Nürnberg which are to be operated using new Pesa Class 633 diesel multiple-units. Lot 2 covers regional express services from Ulm and various local stopping services. Bidders for Lot 2 could offer either new low-floor DMUs or refurbishment of the existing high-floor Class 612 two-car tilting DMUs, with DB opting for the latter.
All trains will have a conductor, and real time passenger systems are required at stations and on trains.
The timetable is expected to remain largely in its current form until December 2020, when electrification of the Geltendorf – Memmingen – Lindau line is expected to be completed. At this point there will be significant timetable recast, with DB taking over the München – Oberstdorf/Lindau service currently operated by Alex.