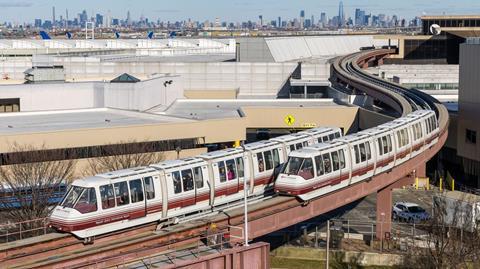 USA: Alstom has been awarded a €250m contract to operate and maintain the AirTrain Newark monorail that links Newark Liberty International Airport main line station to the airport terminals and parking facilities.
The contract was signed between Alstom and the Port Authority of New York & New Jersey and Newark Liberty International Airport, and announced on March 16. The agreement lasts until January 2030 and includes an option for one additional year.
Alstom will be responsible for train operations and maintenance of the rolling stock, station doors, guideways, power supply, washing plant, signalling and other facilities.
The 4·7 km long fully automated, elevated monorail line runs 24 h a day. It serves six stations with connections to terminals, rental car facilities, hotel shuttles and car parks, and provides interchange to New Jersey Transit and Amtrak services.
The fleet of 15 six-car trainsets was supplied by Bombardier when the line opened in 1996.
In May 2021, PANYNJ shortlisted four bidders to provide a replacement for the monorail, which at the time the authority described as 'life expired'. But it subsequently cancelled the procurement on cost grounds.
'Our industry-leading Innovia airport system has been moving travellers and employees between terminals at Newark Airport safely and reliably since 1996. Building upon the knowledge gathered over more than 25 years and our worldwide leadership of operation and maintenance of automated transit systems, our service delivery team will continue to focus on maintaining the AirTrain Newark's high-performance levels and supporting the best possible passenger mobility experience at the airport', said Michael Keroullé, President of Alstom Americas.