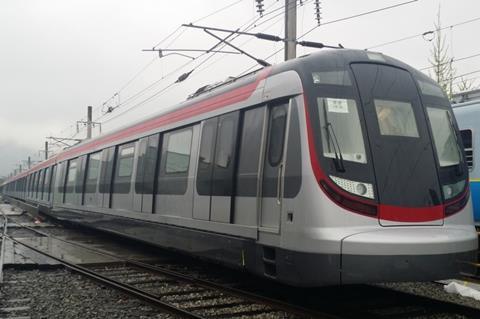 CHINA: The Hong Kong Special Administrative Region's Chief Executive Carrie Lam's firth annual policy address on October 6 included a number of initiatives for the development of local and cross-boundary railway projects, as well as long-term land development.
These include five projects to be explored under the Northern Metropolis Development Strategy for rail-centric transport-led development, as well as a new station:
the Hong Kong – Shenzhen Western Railway linking Hung Shui Kiu/Ha Tsuen and Qianhai in Shenzhen;
extending the Northern Link northwards to connect to the recently completed Huanggang Port in Shenzhen via the Hong Kong-Shenzhen Innovation and Technology Park in the Lok Ma Chau Loop;
extension of the East Rail Line to Luohu in Shenzhen;
extending the Northern Link eastwards from Kwu Tung station to connect with the areas of Lo Wu, Man Kam To and Heung Yuen Wai, and further southwards to Fanling;
examining the feasibility of constructing an automated peoplemover from Tsim Bei Tsui to Pak Nai;
construction of a Science Park/Pak Shek Kok station on the East Rail Line at the current site of the Hong Kong Education University Sports Centre.
'The local and cross-boundary rail projects as well as relevant land development plans presented in the policy address will help make it more convenient for people to travel around, which will be instrumental to the territory's urban development while enabling Hong Kong to tap the enormous opportunities offered by the development of the Greater Bay Area', said MTR Corp Chairman Dr Rex Auyeung. 'We welcome the above plans and will work with the government to support relevant studies. In doing so, we will be contributing to the long-term development of Hong Kong, leveraging our expertise in railway development and operations.'
MTR Corp has awarded an Aurecon-WSP JV a contract for planning and design of Hung Shui Kiu station between the existing Tin Shui Wai and Siu Hong stations on the Tuen Ma Line. The scope includes engineering designs, preparation of the construction programme, cost estimates and liaison with government and other stakeholders. Main works are expected to begin in 2024 for completion in 2030.