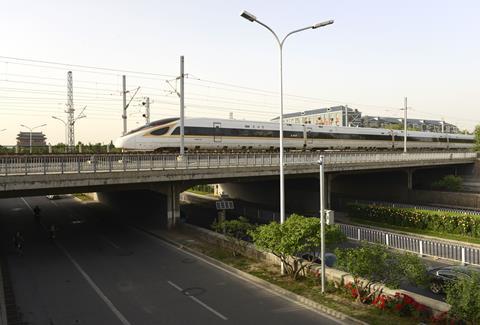 INTERNATIONAL: A report published by UBS Research suggests that many travellers will switch from air to high speed rail in the post Covid-19 period.
'By Train or Plane?' The Traveller's Dilemma after Covid-19 and amid Climate Change Concerns was prepared by UBS researchers in an attempt to determine which business sectors will be most and least affected by the Covid-19 pandemic, what the short-, medium- and long-term options for aviation may be, and what market opportunity may exist in Western Europe.
The report sought to ascertain what a shift from air to rail for both business and leisure passengers would mean in terms of carbon emissions. It also aimed to assess the impact on industries related to the air and rail modes, including OEMs and suppliers to the oil and gas sectors as well as infrastructure and airports.
More climate aware
The report found that consumers and governments were becoming 'more climate aware', with the Covid-19 outbreak revealing in industrialised countries 'what clean air means'. Using data from the European Union, aviation represented about 2∙5% to 3% of global emissions, but around 15% of transport-related emissions, the authors said. In 2017, transport generated 4 483 million tonnes of CO2 equivalent, with road transport responsible for 73% of greenhouse gas emissions, aviation generating 14%, maritime 13∙5% and rail about 0∙5%. Noting that most governments in developed countries had set targets for net-zero carbon emissions by 2040 or 2050, the authors 'therefore expect an acceleration in the shift from planes to high speed rail in both Europe and China'.
UBS analysts found that governments would 'pursue the expansion of high speed rail', with more than €100bn being invested in the European Union and more than 800bn yuan spent in China, generating 'incremental demand for new equipment to boost speeds and density'. They estimated that there would be 'revenue opportunities' worth €40bn to €60bn in Spain, France, Germany and Italy over the next 10 years. This could slow global air traffic growth to 4∙6% a year over the 2018-28 period, they believed, although 'every player is exposed in the air travel, rail and auto sectors'.
Data from a UBS Evidence Lab survey of 1 000 people in four European countries and China suggested that leisure travellers would tolerate 5 to 6 h on a train and that business travellers in the EU would accept up to 4 h compared with a general consensus of 2 to 3 h. 'In China, high speed rail has taken more travellers off the roads than away from airlines, although that could change', UBS said. Service and frequency are key drivers of demand for longer train journeys, and 'both can be improved when competition among operators is introduced'.