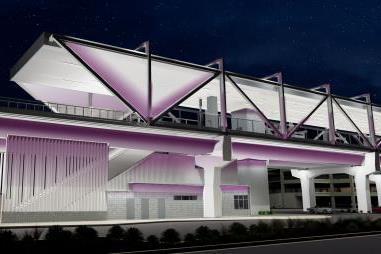 USA: The award of a contract for a joint venture of Kiewit and McCarthy to build Phase II of the northwest light rail extension in Phoenix was approved by the Valley Metro Rail board on July 16.
Utility relocation is expected to begin in August, with opening planned for 2023.
The 2·6 km northwestern extension will start at 19th Avenue in Glendale and run west along Dunlap Avenue. It will then turn north on 25th Avenue and cross I-17 on Mountain View Road to terminate near Metrocenter Mall.
There will be three new stops, with the Metrocenter terminus being the first elevated station on the Valley Metro light rail network. The existing transport interchange will be relocated below the station, and a park-and-ride car park provided.
The project is being funded through the Transportation 2050 long-term multi-modal plan approved by Phoenix voters in 2015, as well as regional funds and a grant from the Federal Transit Administration.
All Valley Metro bus maintenance facilities now rely on solar power, following the commissioning with Standard Solar and Veregy of panels which are expected to produce 2·1 million kWh/year. This is expected to save $35 000/year in energy costs and more than $2m throughout the term of the solar purchase agreement. The solar panels are mounted on canopies over the bus parking area to provide shaded stabling, so that the buses will not have to spend time idling to cool down before entering service.