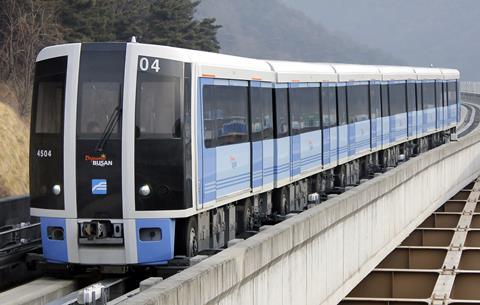 SOUTH KOREA: Concessionaire NamSeoul Light Rail Co has awarded a 329·5bn won contract to a joint venture of Hyundai Rotem and Gwangju Metropolitan Rapid Transit Corp for operation and maintenance of the Sillim Line automated light metro, which is due to open later this year.
Led by Daelim, the NSLRC consortium includes 14 companies including Doosan and Hanwha. It was selected in August 2015 to develop the 7·8 km Sillim Line under a build-operate-transfer concession valued at 560bn won. The Seoul city administration is contributing 38% of the cost and 12% is being funded by the national government, leaving NSLR to raise the other 50%.
The line is being equipped with the Korean Automated Guideway Transit technology used on Busan's Line 4, and will be worked by a fleet of 12 three-car rubber-tyred trainsets.
The Sillim Line will run entirely underground from the metro Line 9 station at Saetgang station in Yeouido, south of the Han River, to the Seoul National University in the southern suburb of Gwanak-gu. It will serve 11 stations, including interchanges to Line 1 at Daebang, Line 7 at Boramae and Line 2 at Sillim. Journey time from Yeouido to the university is expected to be around 16 min, compared to 40 min at present.