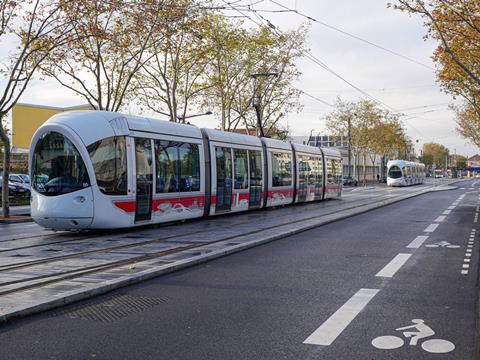 FRANCE: Lyon tram route T6 was inaugurated on November 22. The 6·7 km route has been built as an end-on eastern extension of route T1.
Running from Debourg, where interchange is provided with metro Line B, to Hôpitaux Est-Pinel, T6 serves 14 stops and offers an end-to-end journey time of 21 min. Interchange with Line D is provided at Mermoz-Pinel.
Construction started in August 2017, at a cost of €161m. The route was originally planned as an extended T1, but transport authority Sytral subsequently decided to operate it as a separate line. Services are worked using six Alstom Citadis 302 trams running at peak frequencies of 10 min and every 12 min off-peak.
A further extension from Hôpitaux Est-Pinel to La Doua has been proposed.