Address: Forbo Flooring Systems, High Holborn Road, Ripley, Derbyshire DE5 3NT UK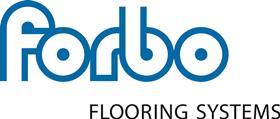 Website: http://www.forbo-flooring.com/rail
Email: transport@forbo.com
Tel: +44 (0) 1773 744121
LinkedIn: https://www.linkedin.com/showcase/forbo-flooring-systems-transport
Twitter: https://twitter.com/ForboTransport
Youtube: https://youtu.be/kOmsuJIMEfU
Coral FR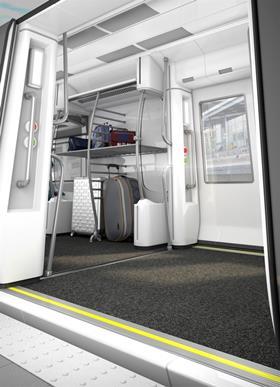 By removing wet and dry soiling from the soles of shoes and wheel treads, an effective entrance system reduces premature wear and tear to interior floor coverings, minimises cleaning and maintenance costs and protects passengers by reducing slip hazards. Coral FR (Classic FR/ Brush FR/ Duo FR/ Welcome FR) is a collection of textile clean off products for entrances with heavy traffic.
Stops up to 95% of dirt and moisture
Excellent dirt storage/soil hiding
Available with different backing options available for quicker installation
Reaction to fire EN45545-2: HL2/ HL3 (depending on design)
Marmoleum FR2 Marmoleum Striato FR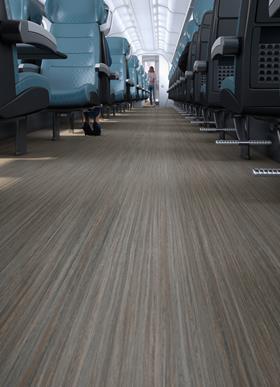 A natural linoleum floorcovering that is associated with sustainability, durability, high quality and innovative in colour and design. What makes these floor coverings really stand out is the fact that they are created using a high percentage of natural raw materials, with renewable and recycled contents.
Independently confirmed as CO2 neutral (cradle to gate)
Homogeneous durable construction
Lightweight at 2.9kg/m2
Suitable for use with underfloor heating
Reaction to fire EN45545-2: HL3
Flotex FR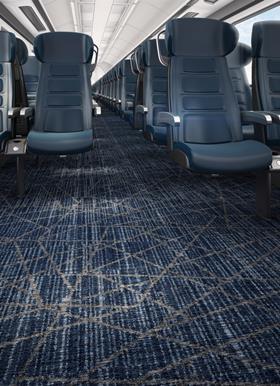 A unique, textile, flocked floor covering, combining the cleaning properties and durability of a resilient flooring with the comfort, slip resistance and acoustic properties usually associated with textiles. Flotex FR can be rotary (Flotex Colour FR) or high definition digitally printed (Flotex Vision FR), the latter allowing for far greater design freedom.
Bespoke design service
Lightweight at approximately 1225g/m2
Excellent acoustic properties up to 22 Db
Impervious backing making it suitable for wet cleaning
Reaction to fire EN45545-2: HL2
Coral Move Vision FR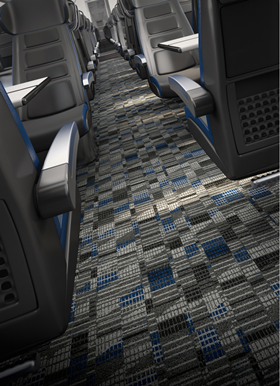 An exceptionally versatile, premium cut pile carpet solution offering extensive design possibilities and colourways to complement a wide range of interior design schemes. Coral Move FR is made from 100% regenerated Econyl yarn, that offers aesthetic styling, durability and long lasting appearance retention.
Extensive customisation possibilities, including high definition digital printing Coral Move Vision FR
Premium cut pile carpet specification achieving luxurious ambience and underfoot comfort.
Natural latex backing from rapidly renewable source
Available with different backing options available for quicker installation
Reaction to fire EN45545-2: HL3
Fleet FR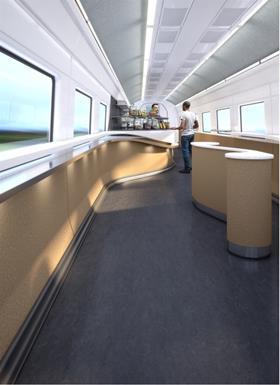 The robust, hard wearing properties of Fleet FR textile wall and ceiling covering, meets the demands of high traffic rail environments that require long lasting performance and ease of maintenance.
Durable, high quality polyester fibres
Reduces ambient noise
Lightweight at 550g/m2
Self-adhesive backing allows for quick and easy installation, saving time and money
Reaction to fire EN45545-2 (R1): HL2
In addition to the breadth of our rail portfolio combined with the flexibility in creating custom design and colour solutions tailored for your projects, Forbo realise that service is equally important in ensuring optimal efficiencies in time and cost management
Cut to shape/size
Bespoke labelling
Custom packaging
Material scheduling
Just in time logistics
For more information visit www.forbo-flooring.com/rail
email us at: transport@forbo.com