MINMAX was founded in 1990, having more than 30 years of experience providing isolated DC-DC and AC-DC power converters across industries such as industrial, railway, renewable energy/electricity, medical/healthcare field applications.

We provide fast turnaround times with high-quality, efficient service and technical support. We have prided ourselves on providing our customers with products and excellent service in a timely way. Our adherence to the best quality standards has also helped MINMAX win customers' hearts and become a preferred business partner. "POWER FOR A BETTER FUTURE" we want to power you to be better than ever and to focus on the future together.
RAILWAY CERTIFIED POWER SOLUTIONS ENGINEERED BY MINMAX
The MINMAX Railway Certified DC–DC Converter family with powers ranging from 3 to 150 W are designed to meet stringent requirements and harsh environmental testing and are specifically designed to be the primary insulation barriers for railway DC power architectures. These railway certified DC–DC converters are available for DC battery bus voltages of 24, 36, 48, 72, 96, and 110 VDC, and for tight regulation for output voltages of 5, 12, 15, 24, 54, ±12, and ±15 VDC. In accordance with EN 50155:2017 certification requirements, these railway certified DC–DC converters conform to the railway DC input-voltage range and transient/variation requirements; the voltage isolation/withstand test vibration and shock/bump test requirements in EN 61373; the cooling, dry, and damp heat test requirements in IEC/EN 60068-2-1, 2, and 30; and the EMC railway standards in EN 50121-3-2.
An advanced circuit topology provides a very high efficiency up to 93%, which allows a base plate temperature up to 105°C and very high I/O isolation up to 3000 VAC with reinforced insulation. Further features include overload, overvoltage, and short-circuit protection; remote ON/OFF; output trim; and output sense. For fire protection testing, these converters meet the EN 45545-2 standard to ensure system safety.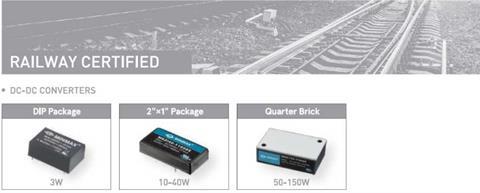 SUCCESSFUL APPLICATIONS: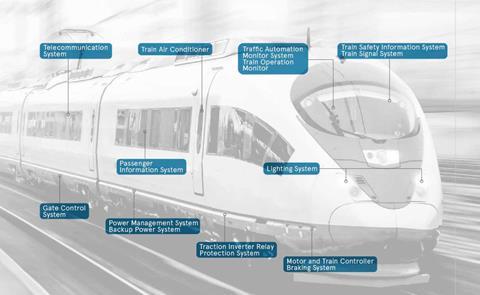 Supporting documents
Click link to download and view these files
PDF, Size 3.12 mb

PDF, Size 3.82 mb

PDF, Size 3.62 mb