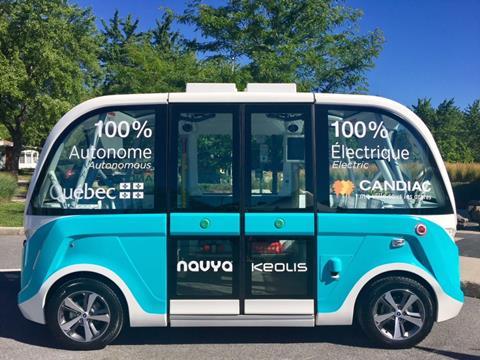 CANADA: Keolis Canada announced the launch of a 12-month pilot of an autonomous electric shuttle in mixed traffic on public roads in Candiac near Montréal on August 10.
A Navya Autonom shuttle, with capacity for 15 passengers and an operational speed of 25 km/h, will serve several stops on a 2 km route. This will link the bus terminal and park-and-ride site with the Marie-Victorin Boulevard and Montcalm North Boulevard junction.
The pilot will include eight months of passenger-carrying tests. Tests without passengers will be conducted to verify the shuttle's ability to operate in winter conditions.
The Propulsion Québec cluster for electric and smart transportation expects the trial to contribute to the development of a regulatory framework and policies for this type of transport. Technopôle IVÉO is also involved in the project, which is receiving C$350 000 from the Québec Ministry of Economy, Science & Innovation.
'Keolis is investing in new shared electric mobility services because it is an important cornerstone for the future of public transportation', said Keolis Canada President Patrick Gilloux.
CAA-Québec Foundation is considering undertaking an independent study on road safety and social acceptance in this project.