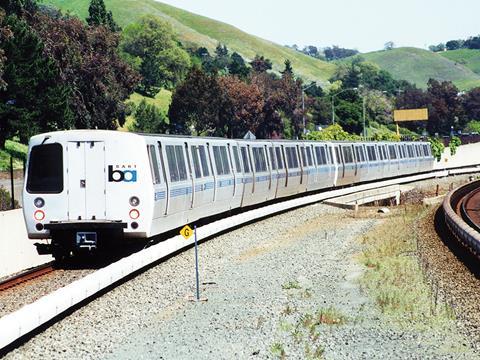 USA: BART and the San Francisco County Transportation Authority have released preliminary results of the BART Perks pilot, which rewarded passengers who travel outside the morning peak with cash rewards. The six-month trial ran from August 30 to February 28.
Inspired by a similar project launched in Singapore in 2013, the pilot's aim was to examine the effects on crowding of peak-time trains and stations by offering incentives to passengers travelling outside the busiest times.
Participating passengers earned up to six points for every mile travelled on BART if their journey started between 06.30 and 07.30 or between 08.30 and 09.30. Points could be exchanged for $1 per 1 000 points or used to play the 'Spin to Win' game that could result in more points or cash rewards up to $100. Rewards were transferred to participants' PayPal accounts.
BART says that expectations for 10 000 sign-ups were exceeded, with almost 18 000 passengers participating. Of the 2 600 participants travelling between 07.30 and 08.30 before the programme, 250 changed their travel patterns on an average day during the trial — the equivalent of two train cars' worth of passengers.
A total of around $210 000 was awarded over the six months. On average, participants earned nearly $3 per month, with about 10 participants each month being paid $100 or more as a result of the 'Spin to Win' game. BART notes that participants' use of social media helped to publicise the programme.
Further publicity came from the 15 employers that signed up as BART Perks Partners, to promote the programme among their employees. In return, BART and the SFCTA offered technical assistance and extra rewards.
'While a complete programme analysis is still to come, we are encouraged by the programme's results to date, including the ability to manage peak demands while garnering overall rider satisfaction and employer support', said SFCTA Executive Director Tilly Chang. BART noted that although the programme was of too small a scale to achieve a 'noticeable' reduction in crowding, it managed to shift some passengers' travel behaviour.
Urban Engines supplied the technology used in the trial. The project was funded through a federal grant, BART's own operating budget, and San Francisco's 0·5% sales tax for transport projects.
BART and the SFCTA expect to complete a full evaluation of the results by late 2017. Based on the findings, they will consider further strategies to reduce peak-time crowding. According to BART, the preliminary results suggest that future incentives programmes would need to better target individuals who frequently travel at the busiest periods.