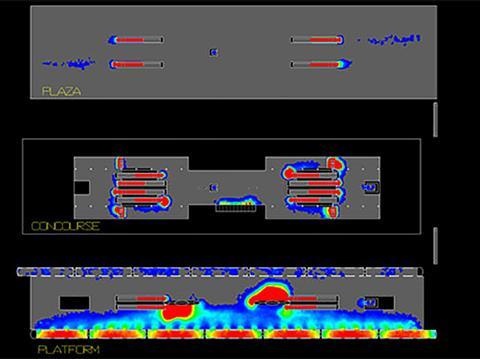 LEGION: Bentley Systems has acquired London-based Legion, which develops software to model the interaction of pedestrians with each other and physical obstacles in spaces such as stations, streets, airports and sports arenas.
Legion tools can be used with Bentley's recently-announced OpenBuildings Station Designer software to model station users' activities and journeys to platforms and trains.
'Pedestrian flows should be considered fundamental design criteria for infrastructure assets like stations or airports which are intrinsically meant to serve the needs of pedestrians', said Legion founder Douglas Connor on October 15.
'We're excited to join with Bentley to provide designers, engineers and owners with pedestrian simulation applications that are integrated with market leading design modelling offerings', he said. 'Next, we can advance Legion's Science in Motion vision to incorporate pedestrian simulation quite cohesively, from the strategic and capital planning of an infrastructure project, throughout its design, subsequent retrofits and into asset operations.'