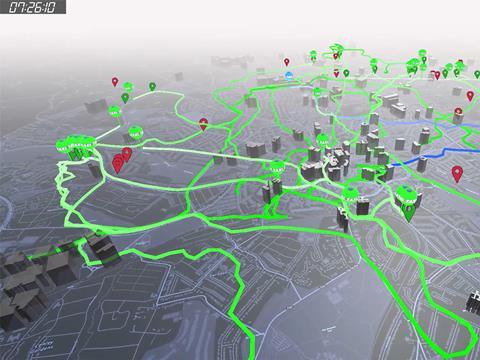 UK: 'Mobility is changing fast but transport decision-making is slow and expensive, based on poor data', believes Robin North, co-founder and CEO of planning software company Immense Simulations.
The company has just raised US$4·6m to support the development of its 'simulation as a service' transport modelling platform in a Series A financing round co-led by European investor Amadeus Capital Partners and Japanese technology venture capital firm Global Brain Corp. Further investment came from 31 Ventures, part of the Mitsui Fudosan Group.
Immense was founded in 2016 as a spin-out from the UK government's Catapult programme. It provides detailed simulations of mobility in cities, to support local authorities and service providers when planning the deployment of new technology and business models including autonomous, connected, shared and electrified transport.
'Cities need to accommodate growth, improve resilience and serve an ageing population while improving accessibility, air quality and energy consumption', said North. 'Operators are facing increasingly low margins and both market and technology disruption, and consumers are expecting an ever more seamless service. This is a large-scale system problem that requires digital transformation to integrate siloed assets and empower effective decision-making.'
Amelia Armour, Principal at Amadeus Capital Partners, said 'we've reached an inflexion point for transport technology, with machine learning and simulation software providing radical new opportunities for planners and providers'.