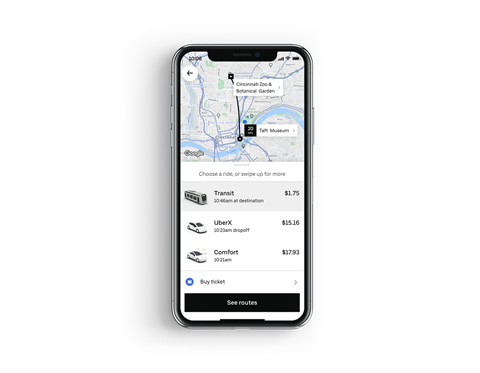 USA: Uber Transit Ticketing has been rolled out across 13 public transport agencies in Ohio and Kentucky, enabling passengers to plan journeys and buy tickets using the taxi booking company's app.
This integration has previously been available in individual cities including Denver and Las Vegas, but Uber said the latest deployment in partnership with fare collection technology supplier Masabi and the NEORide group of transport authorities was its first deployment covering multiple states and agencies.
'With a public transit option now appearing in the Uber app, I hope people who wouldn't regularly consider transit will realise how easy and affordable it can be', said Ben Capelle, President of the NEORide board and CEO of Laketran. 'The partnership with Uber makes transit a more visible and accessible option by highlighting regional transit systems that Uber users may not know exist.'
The 13 participating agencies are:
Cincinnati Bell Connector (Cincinnati Streetcar);
Laketran (Lake County);
Lancaster-Fairfield Transit;
MCPT (Medina County);
METRO RTA (Summit County);
PARTA (Portage County);
Sandusky Transit (Erie County);
SARTA (Stark County);
TARTA (Lucas County);
WRTA (Mahoning County);
BCRTA (Butler County);
SORTA (Hamilton County);
TANK (Northern Kentucky).
When a traveller enters their destination in the Uber app they will see 'Transit' presented as an option, and can obtain real-time planning and direction information. Once they have selected their route, they can purchase a ticket using their existing payment profile. Tickets cost the same amount as those bought through existing vending channels.
Tickets are stored in the Uber app, and can be activated by passengers as they board without needing cellular connectivity. Visual and barcode validation is used for touch-free boarding.