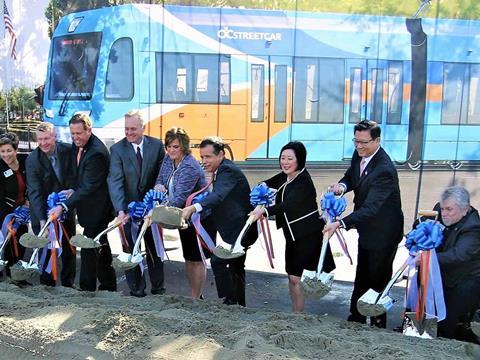 USA: Orange County Transportation Authority held a groundbreaking ceremony for the OC Streetcar line on November 30.
The total project cost is estimated at $408m and is being funded through federal and state funding, as well as a local 0·5% sales tax. A $149m Full Funding Grant Agreement with the Federal Transit Administration was signed on the same day.
Walsh Construction Co is building the 6·7 km route between Santa Ana Regional Transportation Center and Harbor Boulevard in Garden Grove under a $220·5m contract. Siemens is supplying eight streetcars, of which six will be required for services each day. The rolling stock framework contract includes options for up to 10 more vehicles.
Opening is planned for late 2021. Initial ridership is forecast at 7 300 passengers per day, with service frequencies of 10 to 15 min.