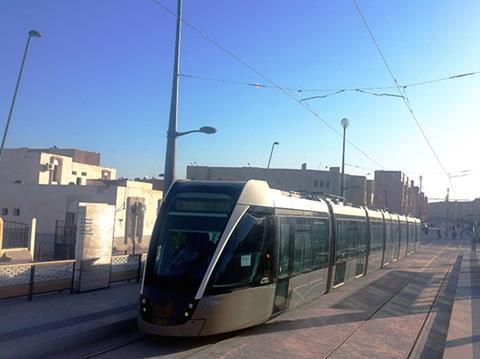 ALGERIA: Minister of Public Works & Transport Abdelghani Zaalane inaugurated a tram line in Ouargla on March 20.
Construction of the 9·7 km route with 16 stops was undertaken by a consortium of Rover Alcisa, Elecnor and Assignia Infrestructuras under a €228m contract awarded in 2013.
The Cital joint venture of Ferrovial (41%), Entreprise Métro d'Alger (10%), Alstom Transport France (43%) and Alstom Algérie (6%) has supplied 23 Citadis trams assembled at its factory in Annaba.
Each 44 m long vehicle has capacity for 400 passengers. To cope with the desert climate, the trams have stronger air-conditioning, solar protection film on the windows, and protection of components against sand and dust ingress.
Cital has also supplied signalling, traction substations, telecoms, maintenance equipment and a ticketing system, and is providing operational support. Services are operated by the Setram joint venture of RATP Dev (49%), Etablissement Public de Transport Urbain et Suburbain d'Alger (36%) and EMA (15%).