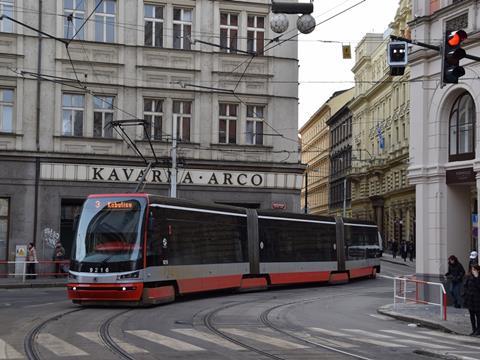 CZECH REPUBLIC: Praha city council has approved ambitious plans to expand the capital's tram network with up to 30 new lines or extensions. The aim is to reduce dependency on cars and fossil fuel buses.
The programme approved on September 5 is to be implemented in three stages. The first three projects, for which planning is the furthest advanced, are scheduled for construction within five years. These are a 2·4 km extension from Divoká Šárka to Dědina costing KC893m, a 1·9 km extension from Sídliště Barrandov to Slivenec costing KC691m, and a 2·1 km extension from Modřany to Libuš costing KC500m. Loops are also to be provided at the Depo Hostivař and Zahradní Město termini.
Another 16 projects are planned by 2030, the longest being a 6·1 km line from Choceradská to Jižní Město via Chodovec, Opatov and Háje.
The final phase comprises 11 projects, for which the city intends to secure the required planning approvals by 2030. These include a Záběhlická – Bohdalec – Eden – Vršovická extension, a connection between Podbaba and Troja Zoo and a new line from Modřany to Komořany.
The Praha tram network currently totals 142 km, of which 52% is on segregated tracks, carrying more than 360 million passengers a year.
Read our feature article on the Praha tram network in the June 2016 issue of Metro Report International, available to subscribers in our digital archive.