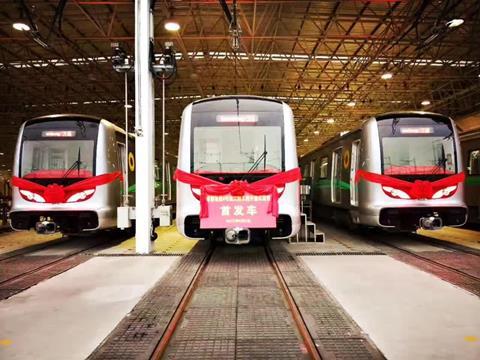 CHINA: The second phase of Chengdu metro Line 4 opened to passengers on June 2, extending the east-west line at both ends.
A western extension with eight stations runs underground from Intangible Cultural Heritage Park to Wansheng. At the eastern end, Line 4 has been extended from Wannianchang to Xihe on a partly elevated alignment with six stations.
Work on Phase 2 began in September 2014. The end-to-end journey time on the 41·3 km line is 69 min, with services running every 3 min 10 sec in the peaks. Mobile ticketing has been introduced at all stations.
The first phase of Line 4 opened for revenue service on December 26 2015, running for 21 km between Intangible Cultural Heritage Park and Wannianchang, serving 16 stations.
CRRC Changchun has supplied a fleet of 54 Type B six-car trainsets. Traction equipment has been supplied by Alstom and its local joint venture Shanghai Alstom Transport Electrical Equipment Co under two contracts.